James W. Armstrong (Artist-in-Residence, 1994)

Isle Royale Reflection
"From my journal for July 20, 1994:
"I was tired today—too much going on in my life. All this silence makes the tension come seeping out of every joint where it has been stored up for so long. I slept and had dreams which I can't now recall. The sound of waves fills the cabin and the sun has come out to reveal the sparkling lake and the many islands around us—the light is that peculiar crystalline northern light. I am very pleased by the sudden simplicity of things here—water fetched in a pail, fire kindled on the hearth, candlelight at night. Back to the beginnings of words, and of metaphors."
The usual purpose of an artist's colony is to provide a time free of distractions—in most such places, meals are provided, and studio space, and one is kept far away from the noise and rush of daily life. The natural beauty of the location—usually these colonies are located on rural estates or in remote communities—is secondary to the main purpose, which is ridding the artist of all excuses for not getting down to the task at hand.

Coming to Isle Royale is not like that—one of the qualifying criteria for applicants is the ability to survive in a wilderness setting. No helpful factotum is likely to appear at one's cabin door with lunch in a hamper. In fact, the artist has to pack his or her own lunch—all his or her prospective lunches for two weeks, as well as all dinners and breakfasts and snacks. What Isle Royale offers is not a respite or a retreat, but a full charge directly into a subject—thus one's experience there is concerned with the primary rather than the secondary or tertiary stages of artistic production. The island offers itself as content, and I found that whatever I was doing—observing a moose feeding, chopping the day's firewood, or doing the dishes by candlelight—I was gathering material. This represented a pleasing return to a kind of integrated life, one in which I did not have to compartmentalize the various activities I live by. I found that very inspiring—it was as if the simplest act could regain its mythic or symbolic level, and thus physical labor could be enjoyable again, as life's elemental quality began to show itself."

-James Armstrong*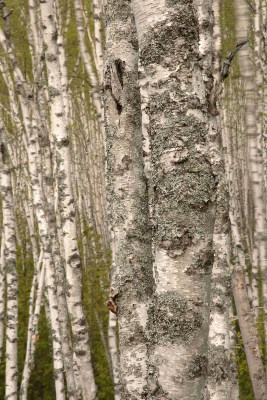 "Pilgrimage" by James Armstrong

The canoe is a kind of shoe,
it may walk everywhere--
to all narrow bays, and
all stone-rimmed islands.
The sky is a kind of hat,
with a blue brim.
The lake is a prayer
repeated in all directions.
Listen--up on the ridge,
among white birches
the wind is telling
the beginning of the world.


About the Artist*
James Armstrong was an Isle Royale Artist-in-Residence from July 19th to August 3rd, 1994. He first saw Lake Superior in 1969 on a family vacation, and he has been fascinated with it ever since. He grew up in Kalamazoo, Michigan, where he earned an MFA from Western Michigan University. Armstrong has a Ph.D. in American literature from Boston University and he currently teaches English and creative writing at Winona State University in Winona, Minnesota, where he lives with his wife and two daughters. He has published two books of poetry; Monument in a Summer Hat, was published in 1999 by New Issues Press and Blue Lash was published in 2006 by Milkweed Editions. He has been the recipient of a PEN-New England Discovery Award and an Illinois Arts Council Fellowship in Poetry.

*[Source for all James's page content: Root, Robert and Jill Burkland, editors. (2000). The Island Within Us. Houghton, MI: Isle Royale Natural History Association. p 74. Print.]
Search by Year

Search past Isle Royale Artists-in-Residence by year of their residency.

Search by Artist

Search past Isle Royale Artists-in-Residence by last name.

View Gallery

View past Artist-in-Residence artwork sorted by medium.
Last updated: January 15, 2020