Pets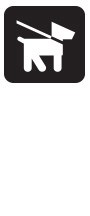 Pets are members of our families, but there are some things you should be aware of before bringing your pet to the park.
Guidelines
Pets must be restrained on a leash no longer than 6 feet (2 meters).

Pet owners are responsible for removing pet waste everyhere in the park.

Pets should not be left unattended in a vehicle, especially in the summer. High temperatures in a car can kill pets.

Service animals are an exception to these rules and may accompany their owner to all park locations.
Beaches Open to Pets
Pets must be on a leash at all times, even when swimming in the lake. Handlers allowing pets to chase birds or otherwise harass wildlife are subject to a citation. Pet handlers are responsible for carrying waste off the beach.
Horses
Horses under the direct control of a rider are allowed on specific parts of the Glenwood Dunes trail system. Please visit the Glenwood Dunes

trail system webpage for more equestrian information.

Restricted Pet Areas
With the exception of assistance animals, the possession of pets is prohibited in the following areas:
Special Events
During large public and other special events, some areas are temporarily closed to pets. Watch for restrictions posted on brown signs at parking areas and entrances to event areas. You may also call the Visitor Center at (219) 395-1882 for information.

Pet restrictions and closures are in place to allow for compatible use of areas, threats to wildlife, damage to sensitive plants and to cooperate with local and state regulations.


Last updated: April 1, 2019