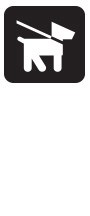 Pets are members of our families, but there are some things you should be aware of before bringing your pet to the park.
Guidelines
Pets must be restrained on a leash no longer than 6 feet (2 meters).

Pets should not be left unattended in a vehicle, especially in the summer. High temperatures in a car can kill pets.

Pet owners are responsible for removing pet waste from campground, picnic areas, parking lots, roads and other developed areas.

Service animals are an exception to these rules and may accompany their owner to all park locations.