Paul H. Douglas Trail (Miller Woods)


Getting There
Need to Know
Trail Map
Featured Hikes
Nearby Hikes
Photos

The Paul H. Douglas Trail in Miller Woods winds through several habitats including wetlands, globally rare black oak savanna, open dunes and beach. The views of the lake and the dunes are incredible. The oak savanna's native grasses and wildflowers, including lupine, thrive in the sunlight and open forest floor. Please stay single file on the narrow trail to protect yourself from the abundant poison ivy along the trail edges as well as the fragile lupine habitat.

Trail Features: Birding, Fall Colors, Lake, River, Swimming, Views, Wildflowers, Wildlife
Must See Gems: Dunes and Lake Michigan
---
Getting There

Trailhead Parking Lots
100 North Lake Street, Gary, IN 46403

Trailhead GPS Coordinates
41.606466, -87.268527 (Decimal Degrees)
---
Need to Know
Hours & Information
Hours

–

Trails and parking lot are open daily from 6:00 am to 11:00 pm Central Time.

The Paul H. Douglas Center for Environmental Education is open daily from 9:00 am to 5:00 pm Central Time, from the Friday of Memorial Day weekend through the Monday of Labor Day weekend. The center is open daily from

9:00 am to 4:00 pm Central Time for the remainder of the year.

Trail Length – Douglas Center loop: 0.9 miles. Beach trail: 3.4 miles.
Hike Time – Douglas Center loop: 30 minutes. Beach trail: 2 hours.
Difficulty – Douglas Center loop: easy. Beach trail: moderate with some elevation change closer to the lake.
Trail Surface – Packed dirt with some sections of loose sand. Be aware, trail conditions can change quickly due to high lake levels and storms.
Facilities – Year-round restrooms and potable water

in the Paul H. Douglas Center during open hours.

Pets – Permitted on a leash (6' or shorter).
Prohibited – Littering and hunting.
Prohibited – Bicycles and motorized vehicles.
Prohibited – Removing plants, rocks, shells, and fossils.
Prohibited – Glass and fires on the beach.
Parking lot is paved and large enough for RVs and buses.
Safety
Please stay on the trail and respect closed area signs. Going off trail damages fragile habitat.
Ticks are present year-round. Take precautionary measures to prevent bites.
Poison ivy can be present on the edges of the trail.
Be prepared for changing weather conditions.
In case of an emergency or to report a crime, call 1-800-PARK-TIP.
Accessibility
Trails are not wheelchair accessible. The Paul H. Douglas Center, restrooms, and the walkway from the building to the marsh boardwalk and picnic tables are all wheelchair accessible.
---
Trail Map
Click here
for a list of all hiking trail maps of the Indiana Dunes National Park.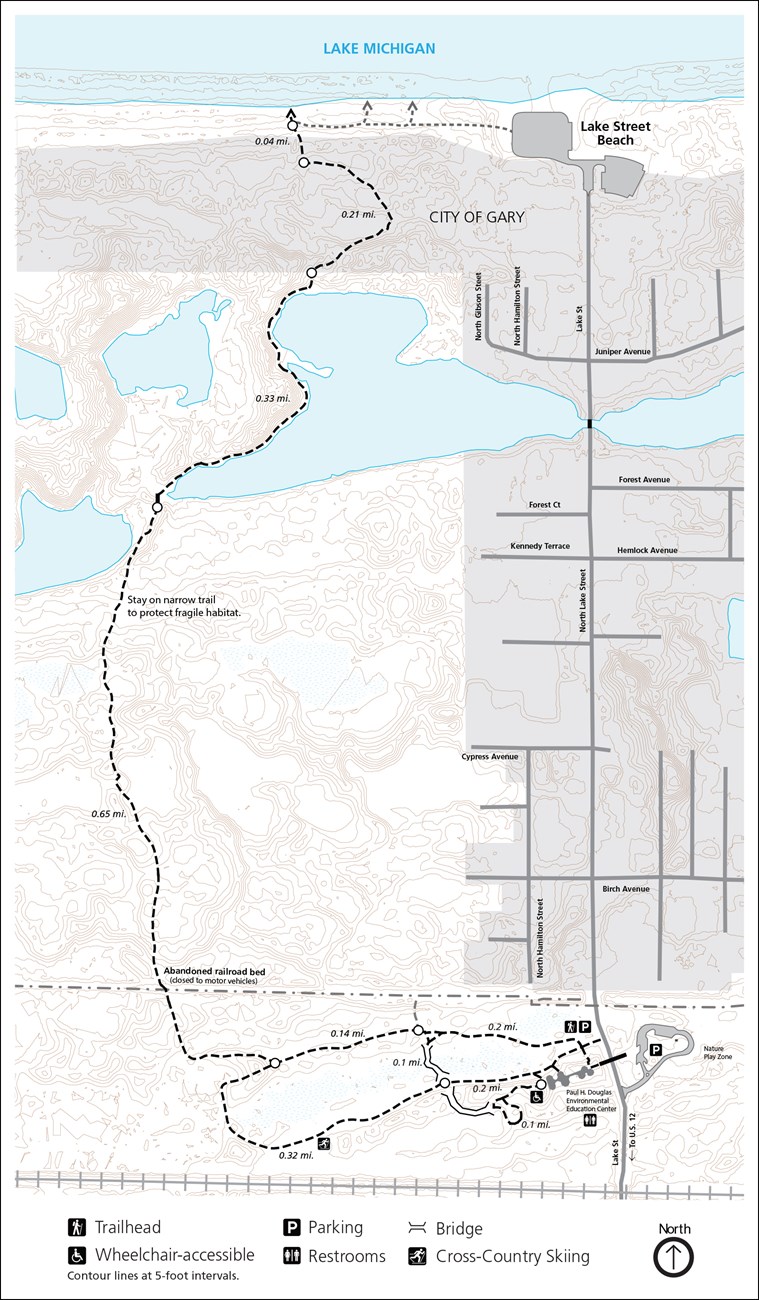 ---
Featured Hikes
Paul H. Douglas Trail
3.4 miles, 46 feet of elevation gain, 1% average grade, 4% maximum grade
Hike time: 2 hours

This featured hike is essentially an out and back trail. Starting from the Paul H. Douglas Center, take the trail north or counter-clockwise around the wetland complex. Look for wildlife including beavers. The trail will run west along the top of the wetland. At the trail junction, take a right and follow the trail to the north. The trail from this point is an out and back to the beach. The trail features beautiful scenery with small interdunal ponds nestled among oak savanna covered dunes teeming with wildflowers in the spring and summer.

Once you cross the bridge over the Grand Calumet River, the landscape changes dramatically into a world of towering sand dunes. The trail winds around and through the dunes all the way the shore of Lake Michigan. After enjoying the lake, follow the trail back to the junction at the wetland complex. Follow the trail to the right along the wetland back to the Paul H. Douglas Center.

The trail surface is mostly sand with some sections of packed soil, gravel or boardwalk. The hike will take longer than you think due the loose footing of walking in the sand. The trail starts in relative shade but ends in the full sun. Please bring plenty of water, sun protection and dress in layers. The weather on the beach can be dramatically colder or hotter than in the woods.

History & Background
The Paul H. Douglas Trail is a partnership between the National Park Service and the City of Gary, Indiana.

Learn about some of the history of the Miller/Gary lakefront through the stories of 'Squatter Queen'

Drusilla Carr and the 'Grandfather of Flight' Octave Chanute