Central Avenue Beach at Indiana Dunes National Park

Loading weather forecast...
Parking and Hours
Parking Lot
Central Avenue Beach
68 total spaces

0 oversized spaces

41.701488, -86.948473
Paved parking lot with 68 parking spaces. 0 spaces are accessible. An entrance pass, annual pass, or lifetime is needed to park in this lot. Visit https://www.nps.gov/indu/planyourvisit/fees.htm for more information.
7 Day Motorcycle Fee
Per motorcycle (valid for 1-7 days from date of purchase).
Cost: $20.00
7-Day Park Entrance Pass - Family-Size Vehicle Pass
Per private family-sized vehicle (valid for 1-7 days from date of purchase).
Cost: $25.00
7-Day Per Person Entrance Pass (Organized, non-commercial groups)
Visitors 16 years of age or older who enter on foot, bicycle, boat, or as part of an organized group not involved in a commercial tour.
Cost: $15.00
Indiana Dunes National Park Annual Pass
This pass provides entry for the pass owner(s) and passengers in a family-sized vehicle. This pass only works at the Indiana Dunes National Park and is not accepted at the Indiana Dunes State Park.
Cost: $45.00
Annual Pass (Interagency)
Interagency passes like America the Beautiful and The National Parks and Federal Recreational Lands Pass Series.
Cost: $80.00
Annual Military Pass (Interagency)
Active, Veteran or Gold Star Family.
Cost: $0.00
Annual Fourth Grade Pass for US Students in Fourth Grade
Every Kid in a Park (EKIP), an initiative to encourage 4th grade children and their families to enjoy our country's national parks and public lands, for FREE.
Cost: $0.00
Annual Senior Pass (Interagency)
The senior pass is available for citizens above the age of 62.
Cost: $20.00
Lifetime Senior Pass (Interagency)
A one-time fee for senior citizens above the age of 62.
Cost: $80.00
Lifetime Access Pass
The Access Pass is a free, lifetime pass available to United States citizens or permanent residents, regardless of age, that have a permanent disability.
Cost: $0.00
During the peak season (Memorial Day weekend through Labor Day weekend), the parking lot can fill up fast.
Amenities
Accessible Lot

No

Number of ADA-designated spaces

0

Number of ADA van-accessible spaces

0

Number of ADA step-free spaces

0

Total number of spaces

68

Number of oversize vehicle spaces

0
Getting There
Central Avenue Beach Parking Lot
One mile north of the intersection of Central Avenue and U.S. Highway 12 in the Town of Pines.
Need to Know
Facilities – Seasonal restrooms and potable water.
Prohibited – Glass and fires on the beach, littering.
Prohibited – Removing plants, rocks, shells, and fossils.
Parking lot is paved.
There are two picnic tables at the west end of the parking lot up the stairs.
Safety
Please stay on the trail and respect closed area signs. Going off trail damages fragile habitat.
Visitors are strongly urged to safely remain on the beach area and not to climb up on the dune slopes directly behind the beach.
Ticks are present year-round. Take precautionary measures to prevent bites.
Poison ivy can be present on the edges of the parking lot and on the trails to the beach.
In case of an emergency or to report a crime, call 1-800-PARK-TIP.
Accessibility
The restrooms are wheelchair accessible. The beach and picnic tables are not wheelchair accessible.
Visitor Activities
Swimming. No lifeguards. Swim at your own risk; rip currents and waves can make swimming hazardous.

During the spring and summer, watch the Bank Swallows come and go from their nests in the dunes.
Nearby Beaches
---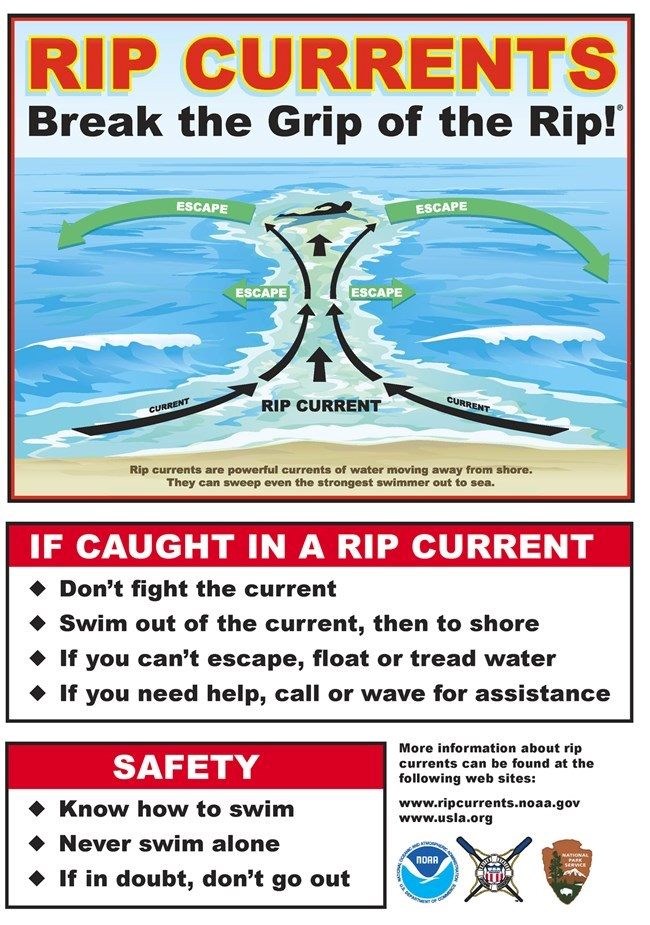 Rip Currents:
Be on the lookout this summer for rip currents on Lake Michigan.
Before your next visit to the beach, learn how to spot a rip current and what to do if you get caught in one. Always check the local beach forecast for any warnings, and exercise caution.
IF CAUGHT IN A RIP CURRENT
♦ Don't fight the current
♦ Swim out of the current, then to shore
♦ If you can't escape, float or tread water
♦ If you need help, call or wave for assistance
SAFETY
♦ Know how to swim
♦ Never swim alone
♦ If in doubt, don't go out
More information about rip currents can be found at the following websites: www.ripcurrents.noaa.gov and www.usla.org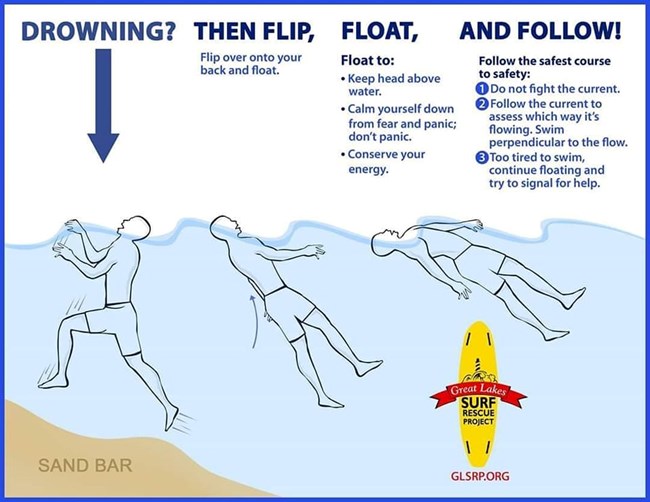 Drowning? Flip, Float, and Follow
"Flip, Float, and Follow," is a campaign and drowning survival technique by Great Lakes Surf Rescue Project to help people remember how to successfully escape a variety of drowning accidents in the Great Lakes such as rip currents, long-shore currents, and structural currents.
1️⃣FLIP: Flip over onto your back and float.

2️⃣FLOAT: Float to: keep head above water; calm yourself down, and conserve energy.

3️⃣FOLLOW: Follow the safest course to safety: do not fight current; follow current to assess which way it's flowing. Swim perpendicular to the flow. If too tired to swim, continue floating and try to signal for help.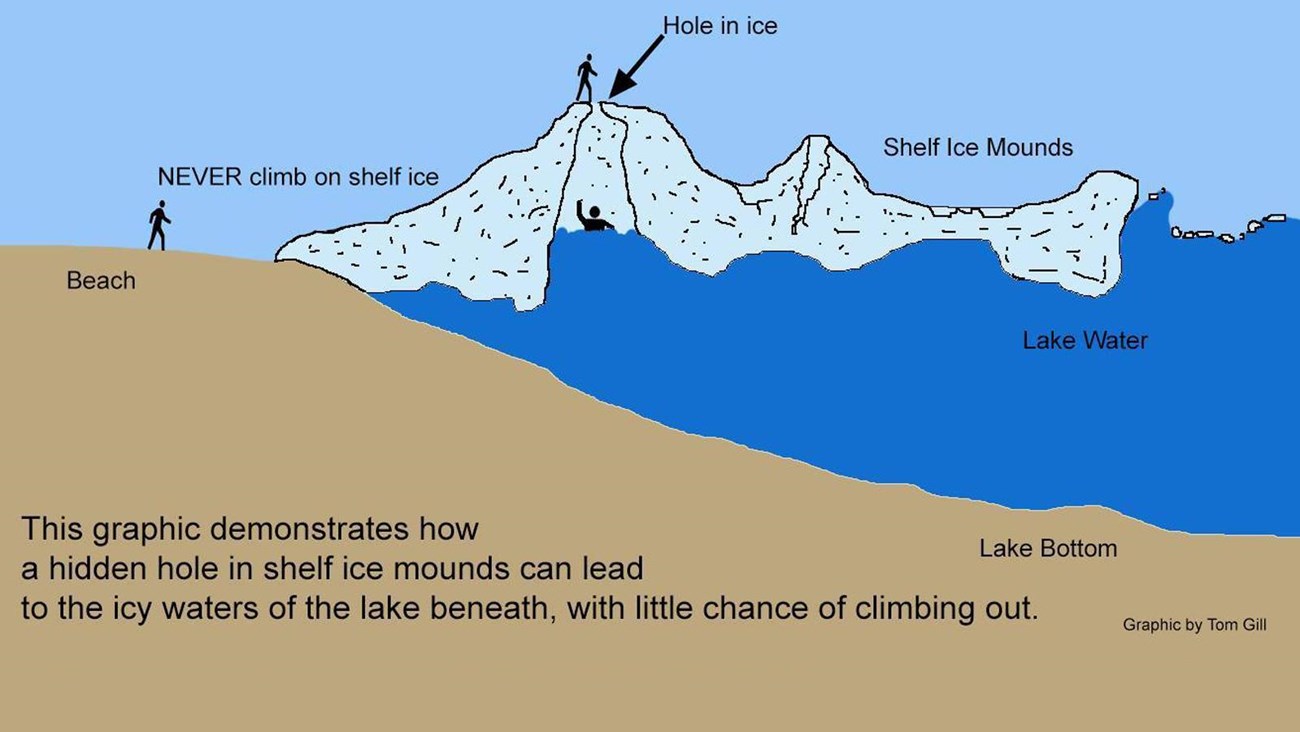 The Dangers of Shelf Ice
Stay off the shelf ice! Despite its unusual beauty, don't risk your life. Enjoy the view of the shelf ice—from a distance!


Last updated: July 7, 2023