Central Avenue Beach at Indiana Dunes National Park

Loading weather forecast...
Parking and Hours
SPACES
68 Total
0 Oversized
Paved parking lot with 68 parking spaces. 0 spaces are accessible. An entrance pass, annual pass, or lifetime is needed to park in this lot. Visit https://www.nps.gov/indu/planyourvisit/fees.htm for more information.
Getting There
Central Avenue Beach Parking Lot
One mile north of the intersection of Central Avenue and U.S. Highway 12 in the Town of Pines.
Need to Know
Facilities – Seasonal restrooms and potable water.
Prohibited – Glass and fires on the beach, littering.
Prohibited – Removing plants, rocks, shells, and fossils.
Parking lot is paved.
There are two picnic tables at the west end of the parking lot up the stairs.
Safety
Please stay on the trail and respect closed area signs. Going off trail damages fragile habitat.
Visitors are strongly urged to safely remain on the beach area and not to climb up on the dune slopes directly behind the beach.
Ticks are present year-round. Take precautionary measures to prevent bites.
Poison ivy can be present on the edges of the parking lot and on the trails to the beach.
In case of an emergency or to report a crime, call 1-800-PARK-TIP.
Accessibility
The restrooms are wheelchair accessible. The beach and picnic tables are not wheelchair accessible.
Visitor Activities
Swimming. No lifeguards. Swim at your own risk; rip currents and waves can make swimming hazardous.

During the spring and summer, watch the Bank Swallows come and go from their nests in the dunes.
Nearby Beaches
---
Beach Safety
Know Before You Go!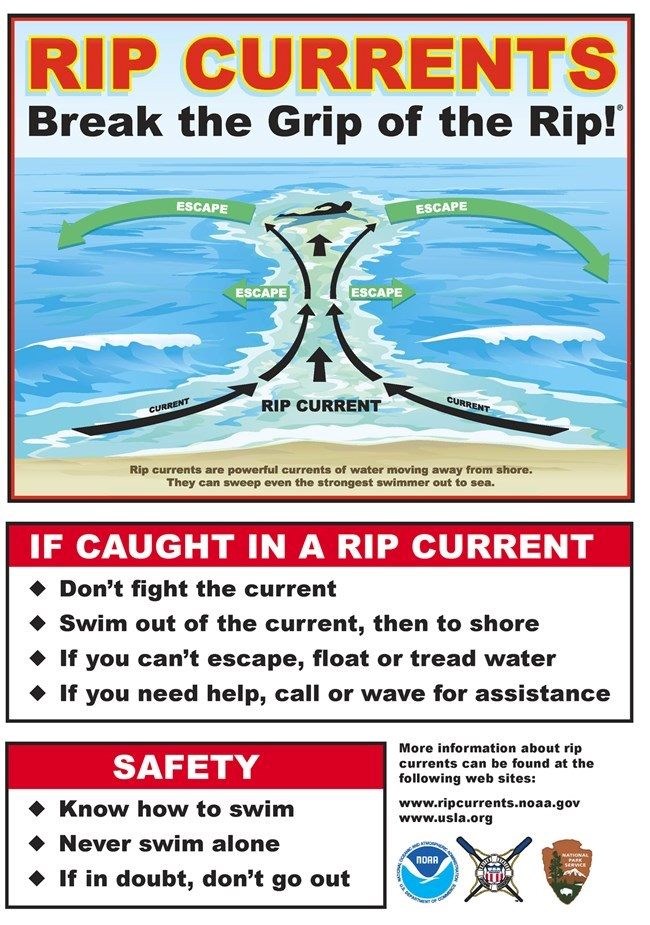 Rip Currents:
Be on the lookout this summer for rip currents on Lake Michigan.
Before your next visit to the beach, learn how to spot a rip current and what to do if you get caught in one. Always check the local beach forecast for any warnings, and exercise caution.
IF CAUGHT IN A RIP CURRENT
♦ Don't fight the current
♦ Swim out of the current, then to shore
♦ If you can't escape, float or tread water
♦ If you need help, call or wave for assistance
SAFETY
♦ Know how to swim
♦ Never swim alone
♦ If in doubt, don't go out
More information about rip currents can be found at the following websites: www.ripcurrents.noaa.gov and www.usla.org


Last updated: June 28, 2022