Commercial Use Authorizations
Do Business With Indiana Dunes National Park
Commercial Use Authorizations (CUA)
Would you like to operate a business at Indiana Dunes National Park? Become one of our Commercial Use Authorization Service Providers. Read below to find out how.
Frequently Asked Questions
A commercial use authorization is a business permit with the National Park Service that authorizes an individual, group, company, or other for-profit entity to conduct commercial activities. These activities provide specific visitor services within a national park area. The National Park Service will only issue CUAs for commercial activities and visitor services that:
are determined to be an appropriate use of Indiana Dunes National Park;
will have minimal impact on Indiana Dunes National Park's resources and values; and
are consistent with Indiana Dunes National Park's purpose, management plans, policies, and regulations.
A CUA is required if you, as an individual, organization, or company, provide any goods, activities, services, agreements, or other function for members, clients, or the public that:
take place at least in part in Indiana Dunes National Park,
use park resources, and
result in compensation, monetary gain, benefit, or profit.
Businesses and individuals may not conduct commercial activities in the park without a valid CUA or in a manner inconsistent with the terms of an approved CUA.
The authorization is issued to an operator to permit the provision of suitable commercial services to park area visitors. The superintendent determines if an operator has the ability to satisfactorily provide visitor services and carry out the terms of the CUA.
The superintendent determines that the commercial services are "suitable"; that is they (a) will have minimal impact on park area's resources and values; (b) are consistent with the purposes for which the park area was established; and, (c) are consistent with all applicable park area management plans, policies, and regulations.
The holder must agree to comply with all of the general and specific conditions described in the CUA conditions and operating plans. You should familiarize yourself with these documents before applying for a CUA.
All activity- and service-based CUAs are issued for up to one year. The CUA operating year is from January 1 to December 31.
Applications will be accepted beginning October 1st of the year prior to the operating year and will be accepted throughout the operating year. Please submit complete application packets 30 days before your first trip in the park.
All CUAs require $100 application fee for each service category due with the application. This fee is not refundable. The initial $100 per service application fee will be credited toward the management fee paid at the end of that operating year.
The management fee is due at the end of the operating year and is based on a percentage of the operating year's gross receipts. This fee must be paid to the park after the park has reviewed and approved the annual report, which is submitted by January 31st, after the operating year has ended.
Management fee is based on percentage of gross receipts ($100.00 application fee for the operating year acts as a credit towards the following):
Less than $250,000: 3% of gross receipts
Between $250,000 and $500,000: 4% of gross receipts in addition to the prior amount
Over $500,000: 5% of gross receipts in addition to the two prior amounts
"Gross receipts" means the total of all revenues received from services a CUA holder is authorized to provide within Indiana Dunes National Park.
The CUA holder is responsible for maintaining accounting records that demonstrate evidence of gross receipts and required fee payment. NPS may audit CUA holder financial reports at any time.
National Park Service Policy requires the Superintendent to charge a reasonable fee for CUAs. The park retains such fees to help pay for the cost of the CUA program, including administration, evaluations, monitoring, and training.
Annual Financial Reports and Management Fee Calculation Forms, which cover the operating year and require reporting of gross receipts and visitors served for each month of that year, are due by January 31st following the end of the operating year. A separate Financial Report and Management Fee Calculation forms are required for each activity a CUA holder has a CUA for. Annual Financial Report and Management Fee Calculation forms will be available by October 1st of each operating year. The Concessions Management Office will review all Annual Report and Management Fee Calculation Fee Forms for accuracy and inform the CUA holder when payment of management fees can be made.
Call the Concessions Management Office at 219-395-1844 for more information.
Commercial Use Authorization applicants and holders must make all payments for application fees and management fees by check.  Checks can be made payable to the National Park Service and mailed to:

Indiana Dunes National Park
Atten: Permit Office
1100 North Mineral Springs Road,
Porter, IN 46304
CUA Application Process
Processing time for CUA permits can take an average of two to four weeks.
All applications will be processed in the order in which they are received.
A CUA does not provide the vendor with exclusive rights to provide a service in the park. The CUA runs on a calendar year. Please submit all required documents, including the application fee, in one application packet. Any incomplete applications will be placed on hold until all required documents are received.
Submitting Your Application
Checks can be made payable to:
National Park Service

Completed application packets can be mailed to:
Indiana Dunes National Park
Attn: Permit Office
1100 N. Mineral Springs Rd
Porter, IN 46304

Click the images below to download an application. Be sure to save it to your computer before filling it out.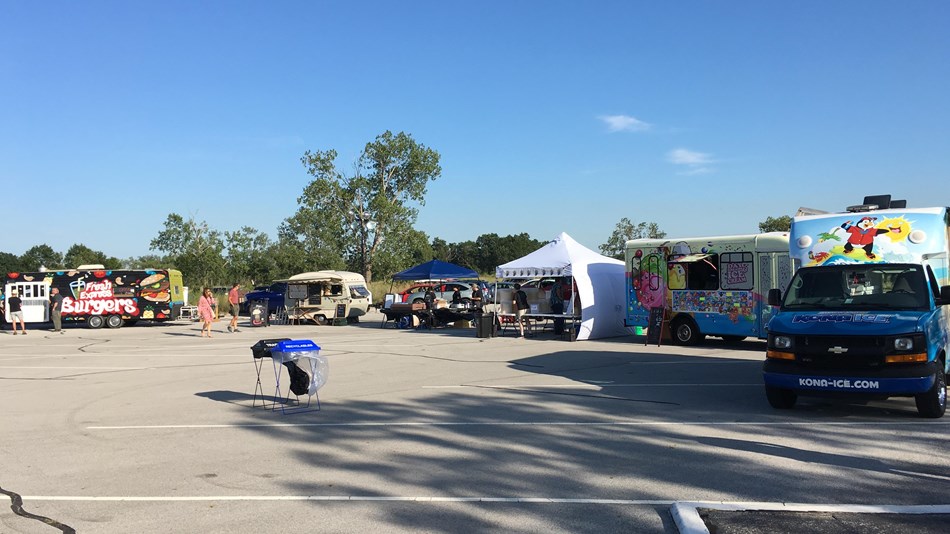 Food Trucks
Defined as a vendor that travels from locations outside the park to approved locations inside the park to provide food and/or beverages.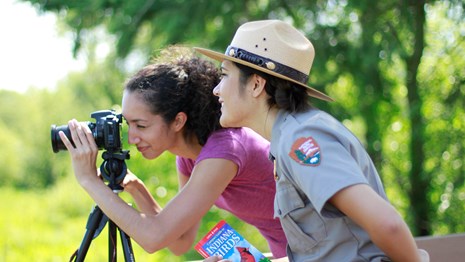 Guided Hiking, Camping, and Photography
Defined as one or more persons travelling on an itinerary that has been packaged, priced or sold for leisure/recreational purposes.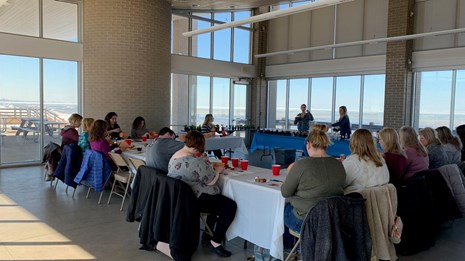 Classes at Portage Lakefront
Defined as instructional classes that customer pay for to participate in, such as instruction for art, fitness, or education.
Vending Machines
Defined as one or more electrified machines at a set area selling prepackaged food, beverages, and single day use items. Machines should be wrapped with a scenic covering and cannot be so bright they hamper the night sky.
Food, Beverage, and Retail: Defined as a vendor who provides food and/or beverages to customers at a non-mobile location in the park.
Guided Non-motorized Vessels: Defined as one or more participants on an itinerary that has been packaged, priced or sold for an experience along waterways in a kayak, canoe, paddle board or other non-motorized vessel.
Photo credits:
Food Truck photo from West Beach Concert 2019 by Michael Gard
Photo of Ranger with visitor and camera 2012 by Jeff Manuszak NPS Collection
Photo of Portage Lakefront and Riverwalk Classroom 2022 by Eve Wierzbicki
Last updated: December 20, 2022