Visiting the President's House Site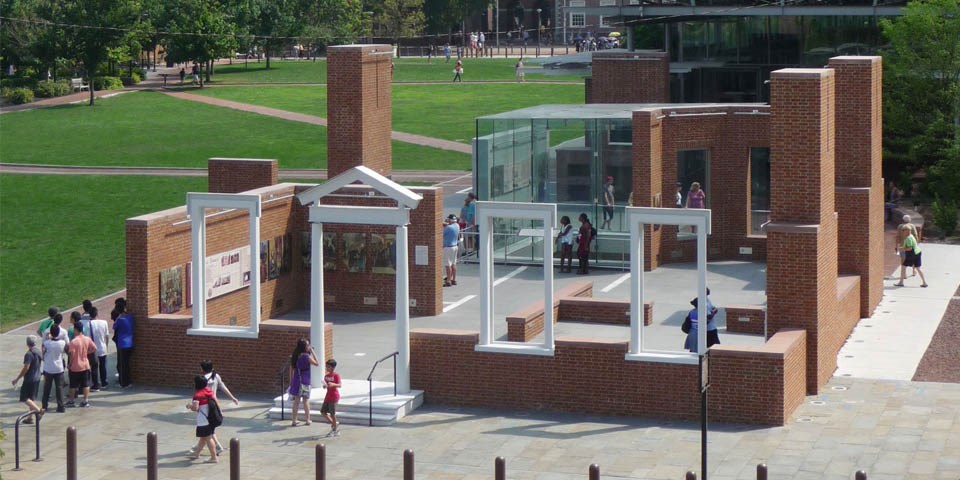 Location
The President's House Site is located at the corner of 6th and Market Streets. This is an outdoor exhibit, and can be entered from either Market Street or 6th Street.
Hours and Fees
Open daily from 7 am - 10 pm, year round
Admission is FREE.
Ticketing
No tickets are required to visit the President's House Site. It is an outdoor exhibit that visitors explore at their own pace.
Exhibits
The outdoor exhibits examine the paradox between slavery and freedom in the new nation. Presidents Washington and Adams - and their households - once lived and worked at a house on this spot. The house was demolished in 1832, but now videos share the stories of the enslaved who lived and worked here, while text panels shed light on everything from the slave trade to the work of the executive branch. Look for the foundations of the home still embedded in the ground. This is a self-guided exhibit.
Accessibility
The President's House Site is wheelchair accessible. The videos are open captioned. Learn more about the
accessibility services
offered throughout the park on our website.
Images and Historical Information
See images below.
Additional information
about the President's House Site is available on the park's website.
Last updated: August 12, 2022