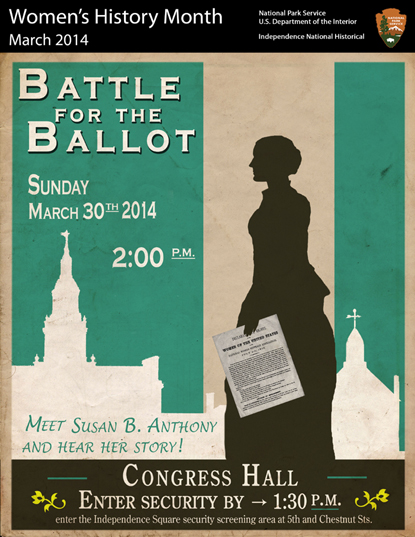 News Release Date:
March 13, 2014
Contact: Jane Cowley, 215-597-0060
Philadelphia – Suffragists faced uphill battles as they fought for women's right to vote. Visitors to Independence National Historical Park on Sunday, March 30, will have a special opportunity to meet Susan B. Anthony and hear how she brought her fight to Independence Hall, home of freedom and democracy.
In 1876, Susan B. Anthony saw no better place to bring the battle for the ballot than to Independence Hall, where she came to spread her words of equality and democracy, decrying the ongoing "taxation without representation" in the United States. In the historic setting of Congress Hall on Independence Square, visitors will have a chance to hear the words of Susan B. Anthony and ask this historical figure questions about her life and her experiences. Anthony will be portrayed by Megan Edelman, a regular performer at Ebenezer Maxwell Mansion in Historic Germantown.Her portrayal of Anthony, with other figures in an ongoing series, won the Historical Society of Pennsylvania's 2013 Public Programming and Education award.
What:Battling for the Ballot, living history program on women's rights
Where: Congress Hall, Independence Square, Entrance at 5th and Chestnut Streets
When: Sunday, March 30, 2:00 p.m. – 3:00 p.m.
The program is free and open to the public. Visitors are encouraged to arrive at least 20 minutes early to allow time to pass through security screening at 5th and Chestnut Streets.Battling for the Ballot is one of several women's history programs at Independence NHP this March. Visitors are also invited to join free programs at the Liberty Bell Center at 10:30 a.m. every Saturday and Sunday in March, at the Franklin Court Printing Office at 11:30 a.m. every Saturday in March, and in the Second Bank at 1:30 p.m. and 3:00 p.m. every Saturday and Sunday in March. More details are available on the park website.