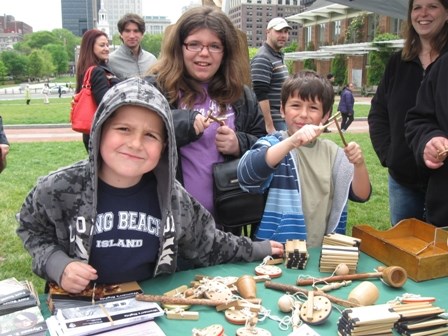 Independence National Historical Park celebrates National Park Week beginning Saturday, April 20 with National Junior Ranger Day on Independence Mall from 10 A.M. to 2 P.M. The park will continue to host free, family-friendly programs for National Park Week through Sunday, April 28.
"Independence is a national park right in the heart of Philadelphia," said Superintendent Cynthia MacLeod, "and yet many people touring Independence Hall and the Liberty Bell do not know that they are visiting a national park. National Park Week reminds visitors that Independence shares the same mission as national parks from Yellowstone to the Everglades: preserving America's natural and historic treasures."
On Saturday, April 20, National Park Service (NPS) employees will greet children and families on the lawn of the Liberty Bell Center, aided by Volunteers-in-Park and the Friends of Independence National Historical Park. The Friends is a not-for-profit organization which has supported Independence for over 40 years, providing artifacts for the permanent collections, education programming and tours for visitors and funding to aid the park in the fulfillment of its mission. On Junior Ranger Day, the group's newly formed Young Friends committee will help lead several activities for the day between 10 A.M and 2 P.M. Children can earn Junior Ranger badges by completing a booklet of activities. Families can also build kites like Ben Franklin, compete in uphill hoop and stick races or plant seeds with NPS maintenance employees. Young artists will draw what the "pursuit of happiness" means to them as part of a large paper mural. Visitors can collect park trading cards and even have their photograph taken to create their own individual trading card. The rain location will be the basement of the Second Bank of the United States, located on Chestnut Street between Fourth and Fifth Streets.
Several programs will take place at various locations throughout the park during National Park Week. The Independence Visitor Center will show films from several national parks throughout the nation. Special programs at Independence include:
Poe's First Love: Poetry

, Saturdays, April 20 & 27 at 3 P.M., Second Bank Portrait Gallery. Children of all ages learn about Edgar Allan Poe and poetry and write poems of their own. (30 minutes)

Tilling Freedom's Soil: The Roots of Gardening at Independence National Historical Park

, Sundays, April 21 & 28, 3 P.M., Second Bank Portrait Gallery. Even in an urban area, gardens connect people with nature. (30 minutes)

In Pursuit of a Trade,

Sat.-Sun., April 20-21 and April 27 & 28 at 11:30 A.M., Franklin Court Printing Office. Find out what young Ben Franklin experienced as a printer's apprentice. (10 minutes)

The House That Ben Built,

Wed.-Fri., April 24-26 at 12 noon & 4 P.M., 318 Market Street. Find artifacts that reveal daily lives of people who lived at 318 Market and figure out how they were used.

Jefferson in Philadelphia,

Wed.-Fri., April 24-26 at 1 P.M., Declaration House. Learn about the "pursuit of happiness." (15 minutes)

Birds of Independence,

Sunday, April 21; Sat.-Sun., April 27-28, 8:30 A.M.-6 P.M., Visitor Center. Pick up a bird count sheet and see how many different species of birds you can you find visiting the park, just like you.

Kosciuszko Junior Ranger Program,

Sat.-Sun., April 20 & 21 and April 27 & 28, 12 noon to 4 P.M. Visit the home of a Revolutionary War hero and earn a Junior Ranger badge.
Independence encourages all Americans to engage in the "pursuit of happiness" by visiting America's national parks throughout the country and close to home.
About Independence National Historical Park
A unit of the National Park Service, Independence National Historical Park was created by an Act of Congress on June 28, 1948. Accredited by the American Association of Museums, Independence NHP covers almost 54 acres in Philadelphia's Old City, and includes Independence Hall, the Liberty Bell, Congress Hall, Franklin Court and other historic buildings associated with the founding of the United States. The park is open from 9 A.M. daily with the exception of Christmas Day. A visit to Independence National Historical Park should start at the Independence Visitor Center, located at Sixth and Market Streets, where visitors can pick up a park brochure, park map, and the free, timed tickets required for Independence Hall. For more information, visit https://www.nps.gov/inde/index.htm. "Like" and follow Independence on its Facebook page at https://www.facebook.com/IndependenceNHP
Media contact: John Harlan Warren, acting public affairs officer, 215-597-0060.
--NPS--