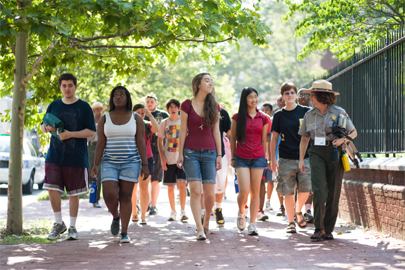 News Release Date:
March 26, 2014
Contact: Jane Cowley, 215-597-0060
Independence National Historical Park welcomed a group of international educators as part of Department of State's International Visitor Leadership Program, managed through Philadelphia's International Visitors Council.
Interpretive Specialist Renee Albertoli met with the delegation at the park's headquarters in the Merchants' Exchange Building and led a discussion on the subject, The American Language I: Connection English Teachers with U.S. History and Culture. Albertoli worked to bring her presentation to life by inviting colleagues from the Philadelphia Writing Project, park partners in the Project Write program.Along with Project Write teachers, Albertoli shared her experiences working with local students to build awareness of and excitement in our nation's history through writing and the visual arts.
Objectives for the program set by the Department of State include enhancing participants' understanding of American culture and history, showcasing the geographical and multicultural diversity of the American English language and its dialects, and connecting participants with American educational policy-makers at the national, state, and local levels. Through her presentation and the energetic discussion that followed, Albertoli touched on each of these goals.
"There are so many ways that we, as educators, can reach out to a young audience, to engage them and get them excited about our nation's history," Albertoli said. "It was good for me to have a chance to share my experiences with this group, but even better for me and my colleagues at Project Write to hear about their experiences and what we can learn from them."
Participants came from the following countries: Angola, Argentina, Belarus, Chile, Costa Rica, Honduras, India, Indonesia, Iraq, Nicaragua, Niger, Peru, Russia, Saudi Arabia, Spain and Yemen. They included teachers, administrators and government education officials.