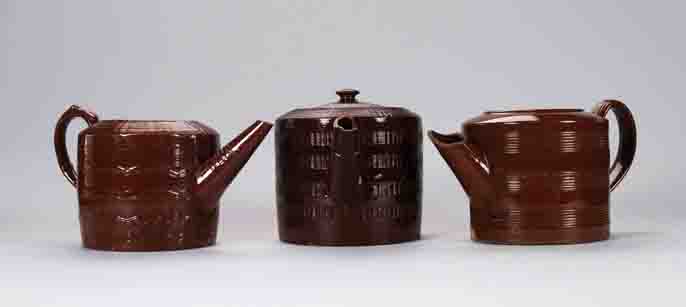 News Release Date:
June 26, 2014
Contact: Jane Cowley, 215-597-0060
Philadelphia – Debbie Miller, Archeologist at Independence National Historical Park, has been awarded a grant from the American Ceramics Circle that may help reveal the role of nineteenth century Philadelphia potters in the making of refined redware ceramics.
"Ceramics scholars have long thought that refined redware ceramics were manufactured exclusively in England," Miler explained.But this interpretation may not be correct.
"New research has revealed that nineteenth century potters in Philadelphia had the skill and technology to produce a variety of refined forms including teapots and coffeepots with intricate geometric decoration that could only be produced on an engine turning lathe," Miller said.
Scientific testing funded by this grant will prove, or possibly disprove, that Philadelphia potters were indeed making this type of pottery.
The study will include objects from archaeological excavations in Independence National Historical Park, at what is now the National Constitution Center and a site on Dock Street. The study will also use objects from additional archaeological sites in Philadelphia including the ongoing excavations on I-95, and several past excavations in Philadelphia whose collections are now stored at the State Museum in Harrisburg.
Debbie will be working jointly on this study with archeologist Dr. Meta Janowitz, Senior Material Analyst at URS. Dr. Allan Gilbert, Professor of Anthropology at Fordham University, will conduct the scientific portion of the study. The research will be concluded by the end of 2015 and results will be published in the American Ceramics Circle Journal.
Archeologists have been digging at Independence National Historical Park since the 1950s. Their work has uncovered the stories of many well-known figures like George Washington and Ben Franklin as well as the lives of those less-documented by history, including enslaved and free Africans such as James Dexter, who purchased freedom for himself and his wife. Archeology also reveals the lives of laborers, craftsmen, merchants, shoemakers, tavern keepers and their families.
The excavation and study of archeological sites and artifacts is an important part of the National Park Service's mission. By conducting such studies the National Park Service acts to preserve and protect the resources under its care for all Americans.
Independence National Historical Park maintains a working facility dedicated to processing materials recovered from archeological excavations conducted between 2000 and 2003 prior to, and during, construction of the National Constitution Center.The laboratory is open to the public and offers visitors a behind-the-scenes view of archeologists at work, as Philadelphia's buried history is revealed piece by piece. The research team works with everything from tiny seeds and animal bones, to glass bottles and ceramic fragments. Visitors can learn how archaeologists use these objects to better understand the lives of long forgotten Philadelphians.
The Archeology Laboratory is open by appointment on weekdays only. Tours are limited to visitors 16 and older in groups of no more than four on a space available basis. Visits can be scheduled by calling the Laboratory at (215) 861-4956.
A unit of the National Park Service, Independence National Historical Park was created by an Act of Congress on June 28, 1948.Accredited by the American Association of Museums, Independence NHP covers almost 54 acres in Philadelphia's Old City, and includes Independence Hall, the Liberty Bell, Congress Hall, Franklin Court, and other historic buildings associated with the founding of the United States. The park is open from 9:00 am daily with the exception of Christmas day.A visit to Independence National Historical Park should start at the Independence Visitor Center, located at 6th and Market Streets.Here, visitors can pick up a park brochure, park map, and the free, timed tickets required for Independence Hall.For more information visit the park's website, https://www.nps.gov/indeor follow us at twitter.com/independencenhp.