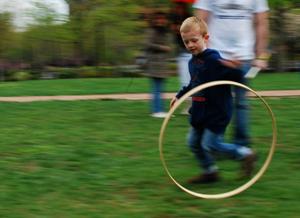 News Release Date:
April 10, 2014
Contact: Jane Cowley, 215-597-0060
Philadelphia – Go wild for our nation's history at Independence National Historical Park during National Park Week, April 19 through 27, 2014. Check out our special programs and activities throughout the week. And to keep the celebration going among our youngest visitors, Independence National Historical Park and the Friends of Independence will celebrate National Junior Ranger Day on Saturday, April 26, with educational games and activities on Independence Mall.
For National Park Week, Independence will offer a series of events designed for the whole family.Activities include programs at the Second Bank of the United States at 3:00 p.m., bird counting activity sheets available at the Independence Visitor Center and special films at the Independence Visitor Center on weekends. Learn more about our national parks with the films "This Is America's National Parks" (44 minutes) and "The National Park Service's Untold Stories" which include: City Kids (13 minutes); Manzanar (14 minutes); Mount Rushmore (9 minutes); San Antonio Missions (12 minutes); and Yosemite's Buffalo Soldiers (11 minutes). Check at the information desk for times or visit https://www.nps.gov/inde.
National Junior Ranger Day is a day of fun for kids of all ages, with hands-on experiences with park gardeners, historians, and National Park Rangers. Families and groups are invited to come out to Independence Mall from 10:00 a.m. – 2:00 p.m. on Saturday, April 26. Meet Ken Franklin, the park's new K-9 ranger. Try your hand at working with landscape maintenance equipment. Or experience life as an 18th century child with historical games, exercises in manners and even some tough choices.
Visit www.nationparkweek.org for more information about what is going on at Independence National Historical Park and other National Park Service sites throughout the country. You can share your park experiences and photos on the website.
National Park Week is also a good time to explore local parks, trails, and architectural gems sustained through National Park Service programs such as the Rivers Trails Conservation Assistance program and the National Register of Historic Places.
A unit of the National Park Service, Independence National Historical Park was created by an Act of Congress on June 28, 1948.Accredited by the American Association of Museums, Independence NHP covers almost 54 acres in Philadelphia's Old City, and includes Independence Hall, the Liberty Bell, Congress Hall, Franklin Court, and other historic buildings associated with the founding of the United States. The park is open from 9:00 am daily with the exception of Christmas day.A visit to Independence National Historical Park should start at the Independence Visitor Center, located at 6th and Market Streets.Here, visitors can pick up a park brochure, park map, and the free, timed tickets required for Independence Hall.For more information visit the park's website, https://www.nps.gov/indeor follow us at twitter.com/independencenhp.