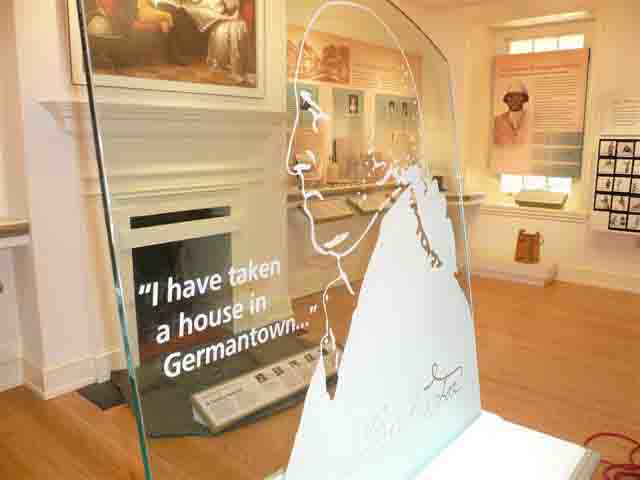 News Release Date:
September 10, 2013
Contact: Jane Cowley, 215-597-0060
Philadelphia – On October 5, to honor the anniversary of the Battle of Germantown, Independence National Historical Park will open the Germantown White House for one day, from 10 a.m. to 4 p.m. The Germantown White House has been closed this year due to budget restraints.This is a special one day opportunity to tour this historic residence.
The Germantown White House has seen many residents, including General George Washington and British General William Howe.The British Army under Lt. General William Howe took Philadelphia on September 26, 1777 and followed the Continental Army as it withdrew northwest of the city.The pursuit ended in Germantown, where Howe encamped on October 2.Two days later, in a surprise movement, Washington's regiments, with a determination not shown earlier, swept down on the unprepared British.In a wild fight, the Americans pressed the British lines back almost to this house before Howe, riding up in haste from his quarters, could rally the hard-pressed redcoats. As the Americans retreated, Howe made his headquarters in the house we now call the Germantown White House.
Years later, Washington, while serving as President of the United States, twice took shelter in the Germantown White House.In October 1793, he found refuge at the house during the Yellow Fever epidemic in Philadelphia. Continuing the business of government, he held four cabinet meetings here. The next summer, it was a welcome retreat for him and his family near Philadelphia, the Federal Capital.  
Operated by Independence National Historical Park, the Germantown White House is located at 5442 Germantown Avenue, Philadelphia, PA 19144. It was donated to the National Park Service in 1948.The house has been closed for 2013 and will be open only on October 5, 2013 for this special event.For more information visit, https://www.nps.gov/inde/historyculture/places-germantownwhitehouse.htm.
A unit of the National Park Service, Independence National Historical Park was created by an Act of Congress on June 28, 1948.Accredited by the American Association of Museums, Independence NHP covers almost 54 acres in Philadelphia's Old City, and includes Independence Hall, the Liberty Bell, Congress Hall, Franklin Court, and other historic buildings associated with the founding of the United States. The park is open from 9:00 am daily with the exception of Christmas day.A visit to Independence National Historical Park should start at the Independence Visitor Center, located at 6th and Market Streets.Here, visitors can pick up a park brochure, park map, and the free, timed tickets required for Independence Hall.For more information visit the park's website, https://www.nps.gov/indeor follow us at twitter.com/independencenhp.