Franklins Gazette Recreated in Franklin Court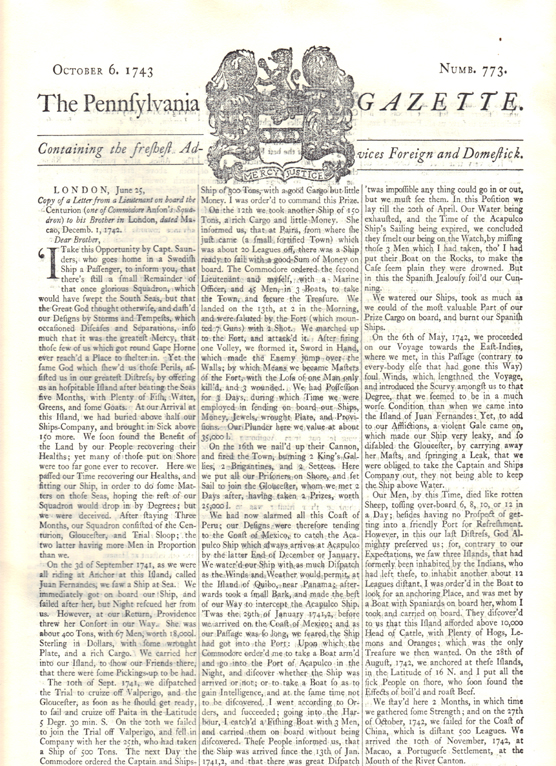 News Release Date:
December 2, 2013
Contact: Jane Cowley, 215-597-0060
18th century newspaper printed for first time at Independence National Historical Park Printing Office
Philadelphia – For the first time since the printing office opened in Franklin Court, park rangers at Independence National Historical Park are printing a copy of Benjamin Franklin's original Pennsylvania Gazette. The Gazette of October 6, 1743 will be featured on the Franklin Court printing presses until December 18, 2013. Copies are available for purchase by park visitors.
Franklin took over the Pennsylvania Gazette in 1729 when it was still an ailing paper, dull and poorly managed. Franklin applied his signature wit, intelligence and determination and soon the Gazette was recognized throughout the colonies as an informative and entertaining paper. Franklin's publishing credits went beyond the news, as he innovated the publishing industry. He used cartoons and maps to illustrate his articles. He printed his political theories to gain public support. He shared his witty and wise sayings in Poor Richard's Almanac. While Franklin's printing office at 2nd and Market no longer stands, visitors to Franklin Court can see what his office might have looked like and see demonstrations of 18th century printing.
Using a replica 18th century printing press, park rangers are recreating the October 6, 1743 Gazette owned by the Library Company of Philadelphia. Along with local news and advertisements, the Gazette features a letter from a lieutenant on board HMS Centurion with news about Commodore George Anson's circumnavigation of the globe in pursuit of enemy ships and Spanish treasure.
Thanks to the craftsmanship of Richard Hopkins of Hill & Dale Typefoundry in Terra Alta, WV, rangers are printing from type almost identical to Franklin's original.Using equipment that had been disposed of by other typefoundries as "obsolete," Hopkins hand crafted each piece of type into the Caslon font. The font used to print the Dunlap broadside (the first printed edition of the Declaration of Independence), Caslon was a font favored by Franklin and is still available in some programs today.
The Gazette is a complete printing of all four pages included in the original. Due to the staffing and resource intensive nature of the work, the park does not usually recreate entire newspapers. This unique creation will only be printed through December 18, 2013 at which time the printing office will once again produce copies of the Declaration of Independence and famous Franklin quotes.
A unit of the National Park Service, Independence National Historical Park was created by an Act of Congress on June 28, 1948.Accredited by the American Association of Museums, Independence NHP covers almost 54 acres in Philadelphia's Old City, and includes Independence Hall, the Liberty Bell, Congress Hall, Franklin Court, and other historic buildings associated with the founding of the United States. The park is open from 9:00 am daily with the exception of Christmas day.A visit to Independence National Historical Park should start at the Independence Visitor Center, located at 6th and Market Streets.Here, visitors can pick up a park brochure, park map, and the free, timed tickets required for Independence Hall.For more information visit the park's website, https://www.nps.gov/indeor follow us at twitter.com/independencenhp.
Last updated: February 26, 2015