The Start of Ratification Politics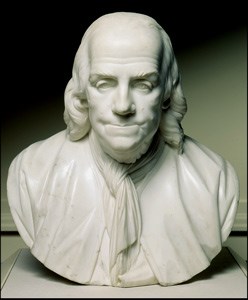 The Start of Ratification Politics
"Sir, I have the very great satisfaction of delivering to you and to this honorable house the result of our deliberation in the late convention. We hope and believe that the measures recommended by that body will produce happy effects to this Commonwealth, as well as to every other of the United States."
- Benjamin Franklin to the Pennsylvania Assembly
Today the Pennsylvania House of Representatives returned to its Assembly Room, after allowing the Federal Convention to use it for nearly four months. At about 11:00 a.m., Benjamin Franklin and the other Pennsylvania delegates to the Constitutional Convention entered the room.
The Pennsylvania Convention delegates also served as members of the State Assembly and could have made a motion today to elect a state ratifying convention, but they did not. George Clymer reserved that action for several days later. Yet, Benjamin Franklin hinted that the Constitution would be ratified by suggesting that Pennsylvania's House should set aside ten square miles of land within the state for a new capital. Article I, Section 8, of the new Constitution stated that a new capital would be created on land ceded by one or more states. Franklin believed Pennsylvania should be that state.
George Washington prepared to leave Philadelphia for Mount Vernon, but first he sent letters and copies of the Constitution to Thomas Jefferson and the Marquis de Lafayette. He enjoyed an early dinner with Robert and Gouverneur Morris and then left Philadelphia with fellow delegate John Blair as his traveling companion. Washington would not return to Philadelphia until on his triumphant procession to New York in 1789 to become President of the United States.
NEXT >>>
Wednesday, September 19, 1787
Publishing the Constitution
HOME The 225th Anniversary of the Constitution Convention

Last updated: February 26, 2015