Publishing the Constitution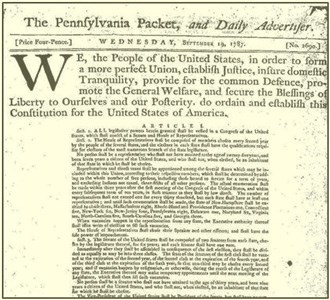 Publishing the Constitution
"All single governments are tyrannies - whether they be lodged in one man, a few men - or a large body of the people."
- The Pennsylvania Packet, September 19, 1787
Today's Pennsylvania Packet carried the first complete text of the new Constitution to be published in any newspaper. Besides printing a copy of the Constitution, the Pennsylvania Packet offered the first newspaper commentary on the new form of government; it praised the separation of power into three branches over the present single legislature.
The printer of the Pennsylvania Packet, John Dunlap, had the singular honor of first printing the Declaration of Independence and the Articles of Confederation for the Second Continental Congress, as well as the Constitution of the United States for the Federal Convention.
During July, August, and September 1787, Dunlap furnished eight different drafts of the proposed new Constitution to the Convention. On the afternoon of September 17, 1787, the Convention gave the final version of the Constitution to Dunlap and his partner, Claypoole. By ten o'clock the next morning, they had their final printing on the stage to New York to be placed in the hands of the Confederation Congress.
NEXT >>>
Thursday, September 20, 1787
To the Congress and the People of the States
HOME The 225th Anniversary of the Constitution Convention

Last updated: February 26, 2015