Margaret Hartman Markoe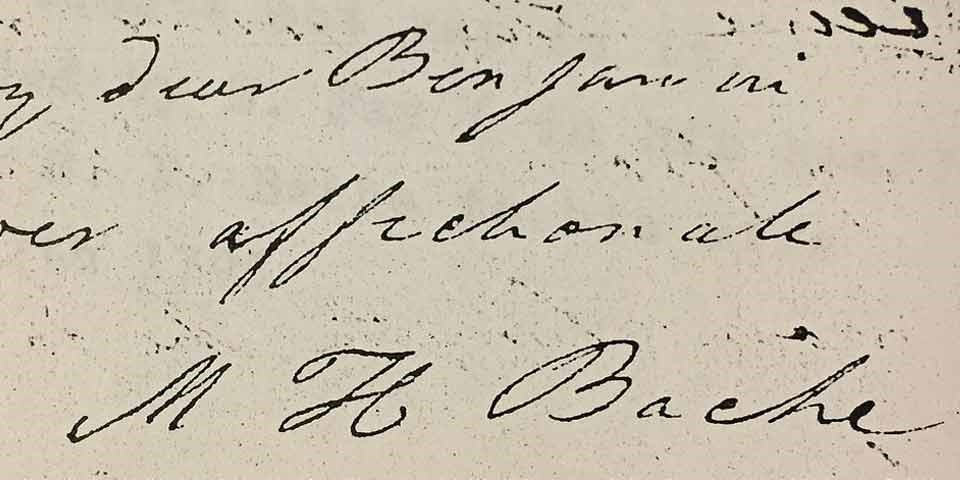 Margaret Hartman Markoe played an active role in the Aurora newspaper's success, collaborating and running the paper alongside her husband, Benjamin Bache. After Bache's death, Markoe assumed ownership of the polemic newspaper and maintained its influence while steering its growth.
Early Life
Born on the Danish island of Saint Croix, Margaret moved to Philadelphia with her mother, Elizabeth Hartman, a year after her father, Francis Markoe, died. That same year, her mother remarried the prominent Philadelphia physician Adam Kuhn.

When Margaret's mother died in 1790, she might have permanently returned to the relative comfort and safety of her family's Clifton Hill estate in St. Croix, except for the intervention of her eager suitor, Benjamin Franklin Bache. The two had met in 1788, and Benny was ever after smitten with her. They married in November of 1791, and moved into 322 Market Street—then 112 High Street—the next year.

Work on the Aurora
From the time she married him, Margaret collaborated closely with Benny in his printing business and running the Aurora newspaper, even as Benny's involvement in political controversies increased and life became more dangerous. Margaret and family friend Dr. Michael Leib, for example, ran the business for several weeks while Benny traveled throughout New England campaigning against the infamous Jay Treaty in 1795. Benny and Margaret had many friends among the Jeffersonian "radicals," but both also endured ostracism, estrangement from family, and vicious slandering from the federalist press, especially the Porcupine's Gazette of William Cobbett.

During the second week of September 1798, Margaret gave birth to her fourth child at the same time that her husband Benny became ill with yellow fever. After Benny's death, Margaret assumed ownership and full responsibility for the Aurora with the help of William Duane, whom Benny had hired and chosen as his successor.

In 1799, Margaret fought off several attempts to buy off the Aurora. Under her direction and Duane's, the Aurora remained the leading newspaper in the United States. The two new partners even had to deal with a threatened strike by the Aurora's pressmen and compositors that year, but the paper did not cease production. In fact, the paper's size and scope increased, with two new columns and more national and international reporting.

Second Marriage
Margaret and William were married on June 28, 1800 at Christ Church in a ceremony performed by Bishop William White. The new couple later moved to 316 Market Street. In an 1824 letter to his friend Thomas Jefferson, after all the "storms of political persecution," William Duane fondly referred to his wife of 25 years as someone with the qualities of "a Roman matron."

Last updated: December 1, 2020