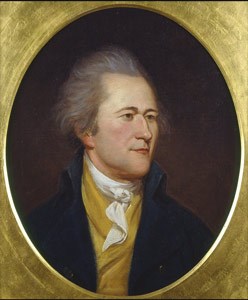 Slogging On
" I wrote to you some days since, that to request you to inform me when there was a prospect of your finishing as I intended to be with you, for certain reasons, before the conclusion. It is whispered here that some late changes in your scheme have taken place which give it a higher tone. Is this the case?"
-Alexander Hamilton to Rufus King
The Convention approved the Judiciary article and moved on to Article XII of the Committee of Detail report which prohibited state coinage, state issued letters of marque, state treaties and state letters of nobility. The article passed.
King (MA) moved to prevent the states from interfering in private contracts. Sherman, Wilson, and Madison agreed; G. Morris (PA) and Mason (VA) thought this was going too far. Rutledge (SC) moved instead to prohibit bills of attainder and ex post facto laws at all levels of government.
Next came Article XIII limiting the powers of the states regarding trade, finance, and war. After debate and amendment, the article was agreed to.
Article XIV, giving the citizens of each state all the privileges and immunities of citizens of the several States, was also approved.
Alexander Hamilton, who clearly favored a strengthened Federal Government, nonetheless felt free to absent himself for weeks at a time. Why?
Each state, at the time it elected delegates, decided the number of its delegates necessary to cast the state's vote. A single delegate could cast the votes of Connecticut and Maryland. New Hampshire, North Carolina, South Carolina and Georgia required at least two; Massachusetts, New Jersey, Delaware and Virginia required three. Pennsylvania required four. New York did not specify a quorum, but the Convention seems to have assumed that a majority of the three member delegation (2) was required. Since Lansing and Yates had gone home in mid-July, New York had had no quorum and no vote. Hamilton could influence the Convention only by his powers of persuasion, and his attendance wasn't worthwhile, except on key occasions.
NEXT >>>
Wednesday, August 29, 1787
Sectional Interests Defined
HOME The 225th Anniversary of the Constitution Convention