Washington Square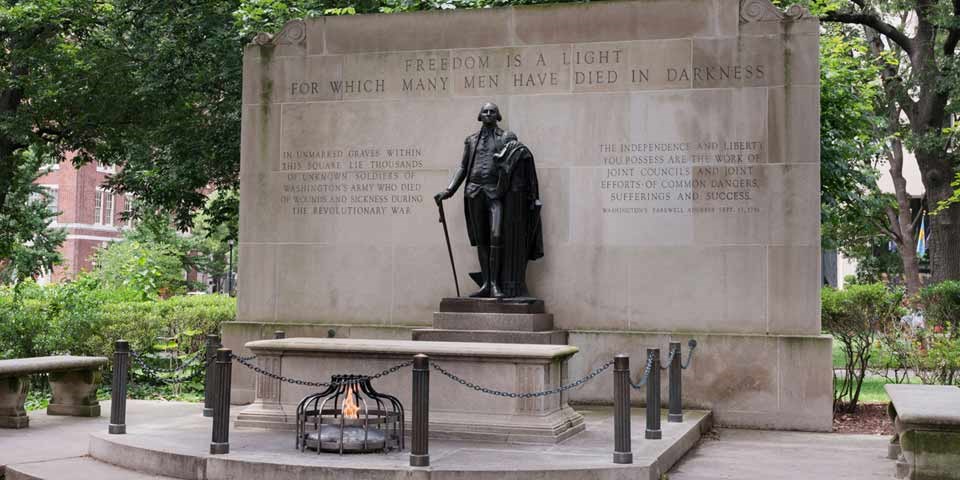 Founder William Penn had a plan for Philadelphia. He wanted a prosperous, bustling city with straight, orderly streets. He also set aside five squares, establishing parks for the public. Today you can visit Washington Square; it's just a block from Independence Hall.

Southeast Square, renamed for George Washington in 1825, served as a burial ground and pasture in the 18th century. In the 19th century the city added trees, walks, benches, lamps, and an ornamental fence. An 1846 guidebook described the Square as "beautiful and fashionable." In the mid-20th century, residents added the memorial to Washington and unknown soldiers of the American Revolution. It remains the Square's centerpiece.
Washington Square is also home to a clone of Philadelphia's only Moon Tree. Carried as a seed by Astronaut (and former Forest Service smoke jumper) Stuart Roosa on Apollo XIV, the Moon Tree (a sycamore) was planted in Washington Square on May 6, 1975. For more information on Moon Trees, visit the NASA Moon Tree web page. Since taking ownership of Washington Square in 2005, the National Park Service has cared for this tree. The ailing Moon Tree has now been replaced with a clone grown by Morris Arboretum of the University of Pennsylvania. The planting took place on September 24, 2011.

Washington Square has many moods. It can be a delightful as well as a solemn place. Paths and trees reflect Penn's vision. The memorial to Washington and the unknowns who died during the American Revolution offer an appropriate setting for national ceremonies and commemorations. A statue of the most famous American, George Washington, stands near the Square's center. It keeps a vigil at the tomb of an unknown soldier who died during the War for Independence. Revolution linked them in life. This shrine joins them in our memory.
Last updated: August 27, 2016