Benjamin Franklin's Character Traits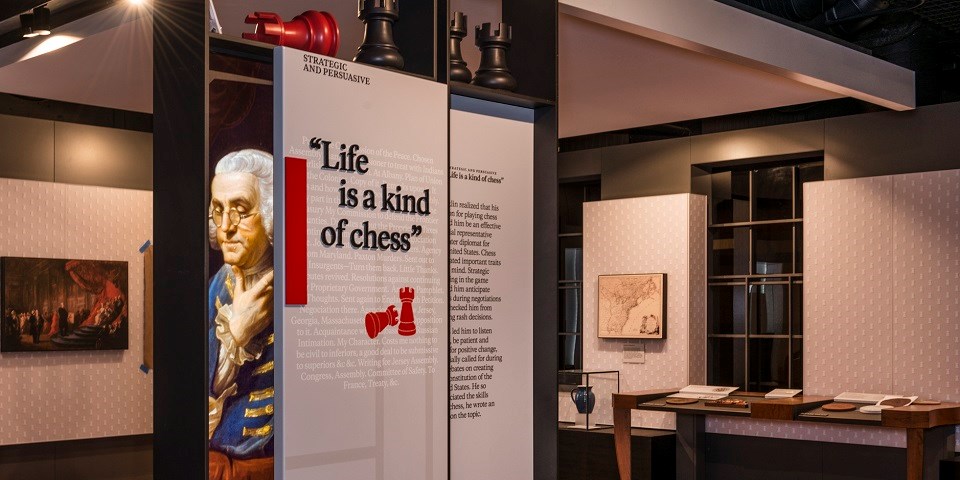 Ardent and Dutiful
Charming, naturally sociable, and witty, Franklin drew people to him wherever he lived. He was dutiful and affectionate toward his family, but it was to close friends that he most often expressed his ardent devotion. During the course of his long life, he wrote thousands of letters to family and friends, maintaining personal ties both in America and across the Atlantic.

Franklin was one of seventeen children in a family of Boston tradesmen. When Benjamin was 12, he was apprenticed to his older brother James, a printer. Rebelling against his brother's stern treatment, he ran away, but maintained close ties with his family, writing frequently with news of his life.

Franklin saw his future wife Deborah Reed on his very first day in Philadelphia. When they married (common law) in 1730, the household already included Franklin's young son, William, whom Deborah raised. Later, their family grew with the birth of their son Francis Folger (who died at four) and daughter, Sarah (Sally). In their early years, the family lived a simple and frugal life. Deborah worked alongside Benjamin to support his growing printing business. Over the years, they shared their home with Deborah's mother and their own grandchildren, as well as houseguests, boarders, apprentices, and free and enslaved Africans.

Ambitious and Rebellious
As a young boy, Franklin wanted to go to sea, but his father hoped for a safer, steadier trade for him, like the family's soap and candle-making business. Franklin rebelled and threatened to run away if forced to pursue it. Franklin's love of reading prompted his father to apprentice him to James, an older brother with a printing shop. Franklin was a quick study and soon mastered all aspects of the trade. He also challenged his stern brother, first by submitting anonymous satirical essays to be printed in James' newspaper and, ultimately, by breaking his apprenticeship and fleeing.

Arriving almost penniless in Philadelphia in 1723, Franklin worked to establish himself as a printer. In time, he founded his own newspaper, the Pennsylvania Gazette, and published Poor Richard's Almanack. He communicated his ideas through these popular publications, while expanding his network of friends and business and political connections, both in the colonies and England.

In 1730, Franklin opened a printing office where he did "little Jobs" for customers, such as printing blank forms, broadsides, pamphlets, and books. He built a reputation, however, for his own newspaper and almanacs which, compared to his competition, were entertaining and sometimes provoking. These publications helped him draw business to his printing and bookshop.

His ambition was rewarded when Franklin was appointed Deputy Postmaster General for the colonies in 1753. He improved the postal system by introducing home delivery, printed forms, and customer credit. For the first time, the colonial postal system turned a profit.

Motivated to Improve
With only two years of formal schooling, Franklin valued self-improvement and was determined to find ways that he could better himself. His public spirit, mixed with his practical organizational skills, produced a variety of civic improvements.

In 1727, Franklin and a group of fellow tradesmen formed the Junto, a club to improve their minds and strengthen their community. Among the group's contributions were the Union Fire Company, Philadelphia's first volunteer fire brigade; the Philadelphia Contributionship, to insure houses against fire; the University of Pennsylvania, the colonies' first non-sectarian college; and Pennsylvania Hospital, America's first public hospital.

Franklin's family kept enslaved African Americans as household servants and his newspaper carried advertisements for runaway slaves, but he also printed some of the earliest anti-slavery writings in America and became progressively more involved in abolitionist causes later in his life, eventually heading up the Pennsylvania Society for Promoting the Abolition of Slavery. He was convinced that black children could learn as well as whites if given the chance, and that education was critical to improving their condition. He helped organize and fund schools for enslaved and free black children, one of which opened in Philadelphia.

Strategic and Persuasive
Franklin was seen as a reluctant revolutionary, until he became convinced that the British treatment of the colonies was unjust. In 1774, the British accused Franklin of treason against the Crown for having leaked letters written by the Massachusetts Lt. Governor that criticized the Boston rebels. Humiliated before the British Privy Council, Franklin began to realize that compromise would not end the dispute between the colonies and the Crown. A year later, he left London for America and added his voice to the growing rebellion.

On July 4, 1776 the Americans formally separated from Britain by adopting the Declaration of Independence, which Franklin helped draft.

During the American Revolution, Franklin persuaded France to commit troops, money, and supplies in support of American Independence. It was risky and expensive for France to aid the new American states, but Franklin convinced the French that unity with the Americans would lead to Britain's defeat, something the French had long hoped to achieve in North America.

The gamble paid off when British General Cornwallis surrendered at Yorktown, VA in 1781. Franklin and his fellow commissioners, John Adams and John Jay, proved masterful negotiators, as they then focused their efforts on gaining treaty that would guarantee American sovereignty and boundaries that would allow for future expansion.

Get It To Go
Search "National Park Service" on the App Store or Google Play to download the free NPS app - it includes the In Franklin's Footsteps audio tour.
Last updated: August 24, 2021