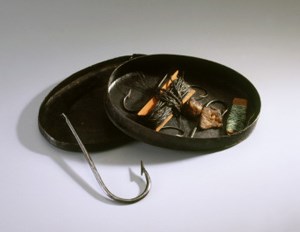 Gone Fishing
"In Convention, which adjourned this day, to meet again on Monday the 6th. of August that a Comee. which had been appointed (consisting of 5 Members) might have time to arrange, and draw into method & form the several matters …agreed to by the Convention, as a Constitution for the United States."
-George Washington's Diary, July 27, 1787
The Convention was in recess. The Committee on Style began its work by assembling the proceedings of the Convention for the period June 19-June 23, the proceedings for July 24-26, the Paterson Plan and the Pinckney Plan.
During the recess, some of the delegates returned home to attend to their affairs and visit with their families. George Washington remained in Philadelphia, but enjoyed a few fishing trips. In company with Mr. Gouverneur Morris, and in a Morris phaeton pulled by the General's horses, General Washington went out to Valley Forge to a Mrs.Moore's to fish for trout. Before leaving, he wrote a brief and unusually spiritedly note to Mrs. Elizabeth Powel:
"General Washington presents his respectful compliments to Mrs. Powel, and would with great pleasure, have made one of a party for the School for Scandal this evening; had not every-thing been arranged, and Mr. Govr, Morris and himself on the point of stepping into the Carriage for a fishing expedition at Jenny Moore's at which place Mr. & Mrs. Robt. Morris are to be tomorrow, to partake of the success, of Mr. Govr, Morris and himself this day."
While at Valley Forge, General Washington took the opportunity to revisit the site of the Continental Army's encampment during the Revolutionary War, noting in his diary: "Tuesday 31st. Whilst Mr. Morris was fishing I rid over the old Cantonment of the American [army] of the winter 1777, & 8. Visited all the Works, wch. were in Ruins; and the Encampments in woods where the ground had not been cultivated."
Meanwhile, Pennsylvania politics demanded the attention of Doctor Franklin. Franklin presided as Pennsylvania's Supreme Executive Council met in their room on the second floor of the State House.
NEXT>>> Still Fishing
Wednesday, August 1, 1787