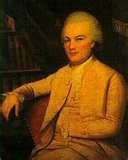 Citizenship in the Senate
"As the Senate is to have the power of making treaties & managing our foreign affairs, there is peculiar danger and impropriety in opening its door to those who have foreign attachments."
-Charles Pinckney in Madison's Notes on the Convention
Article V, Section 1, came under consideration today: The Senate of the United States shall be chosen by the Legislatures of the several States. Each Legislature shall choose two members. Vacancies may be supplied by the Executive until the next meeting of the Legislature. Each member shall have one vote.
Wilson (PA) objected to having the governors fill vacancies. Randolph (VA), Ellsworth (CT), and Williamson (NC) urged its necessity, and the motion to strike it out lost.
Randolph wished to postpone the vote on "each member shall have one vote" pending reconsideration of the money bill provision. Strong (MA) agreed; Read (DE) explained that he had voted against House origination because he thought the large states didn't regard it as important; if they did, he would change his vote. While this debate was out of order, the chair let it continue, with Wilson, Ellsworth and Madison opposing House origination and Franklin, Mason (VA) and Williamson urging that a deal is a deal. All of Section 1 except the last sentence was then approved.
The delegates then turned to Article V, Section 3 (Senators to be at least 30 years of age, citizens for four years and a resident of the state for which he shall be chosen).G. Morris (PA) wanted 14 years citizenship; his motion touched off a lively debate.Fourteen years was defeated. Thirteen years lost, and then ten years lost. After more debate, the delegates agreed on nine years, though Madison stated he could never agree, because among other reasons it would "discourage the most desirable class of people from immigrating to the United States…"
NEXT >>>
Friday, August 10, 1787
Qualifications for Members of the U.S. Congress

HOME The 225th Anniversary of the Constitution Convention