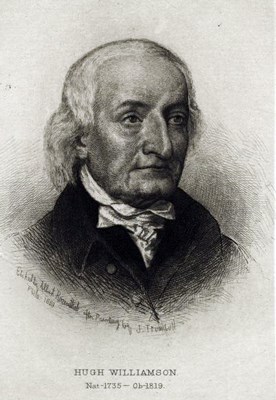 Adjourned
"After much labor the Convention have nearly agreed on the principles and outlines of a system, which we hope may fairly be called an amendment of the Federal Government.This system we expect will, in three or four days, be referred to a small committee, to be properly dressed;…"
-Hugh Williamson to James Iredell
The Convention was adjourned until Monday morning, following a week of solid accomplishment.
On Monday, the Convention had agreed to the Connecticut Compromise - proportional representation and money bills to originate in the House, equal representation in the Senate. After an acrimonious flare-up late Monday, an ineffectual caucus of the delegates opposed to an equal vote in the Senate, and some grumbling, the Convention had put its toughest issue behind it and was making rapid progress on an outlined frame of government which could be given to a small committee to flesh out.
NEXT>>>
Monday, July 23, 1787
Oaths, Numbers in the Senate, and a Committee
HOME The 225th Anniversary of the Constitution Convention