Internship and Volunteer Opportunities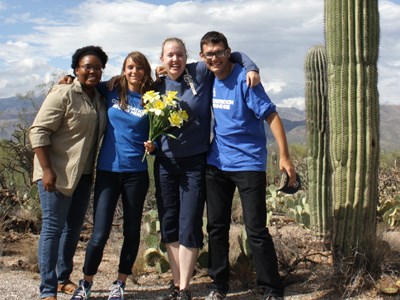 Interns and volunteers play a variety of essential roles at the Sonoran Desert Network and Desert Research Learning Center. Some volunteers help with scientific activities, including field work, data entry, identifying animals captured by wildlife cameras, and assisting with streams and springs monitoring. Others lend a hand with landscaping, groundskeeping, general facility maintenance, and light construction around the Desert Research Learning Center. There may also be opportunities to assist with public programs.
Internships allow student scientists to gain field experience and complete independent projects to fulfill academic requirements. These require a more intensive commitment (4–12 months). On-site housing and travel stipends may be available. Past interns have specialized in botany, hydrology, data management, and cartography, working with our field crews and data management staff. We welcome international volunteers.
Have a skill to share? Contact Elise Dillingham for more information about volunteer and internship opportunities.
Last updated: July 16, 2019