Seagrass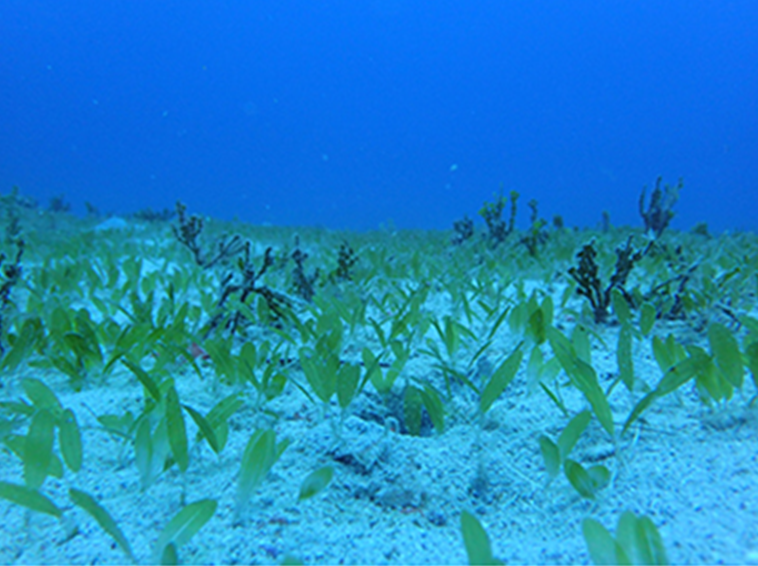 Importance/Issues
Communities of seagrass and other sub-merged aquatic vegetation (SAV) cover large portions of seven network parks and consist of various seagrass and algae species. These habitats serve as nursery areas for many marine species, support a variety of vertebrate and invertebrate life, and provide connectivity pathways between nearshore and offshore habitats. Community composition is related to salinity levels, light extinction, the distribution of soft and hard-bottom sediments, nutrient enrichment, water quality (e.g. sulfides, redox), disease, level of disturbance,and succession. The 1987 seagrass die-off in Florida Bay had cascading effects on the entire ecosystem.
Monitoring Questions
What are the status and trends in seagrass and other sub-merged aquatic vegetation extent, distribution, community composition and habitat quality, especially in relation to known gradients such as onshore-offshore, long-shore gradients, and depths? Is seagrass cover increasing in recently created no-anchor zones?
Approach
Existing monitoring programs for seagrass are being conducted in Florida Bay and Biscayne Bay by the Florida Bay Fisheries Habitat Assessment Program (FHAP) and Miami-Dade County Department of Environmental Resources Management (DERM) using a sampling unit design and sampling unit level methodology that is consistent with the program being used in the Florida Keys by Jim Fourqurean of Florida International University. Florida Bay is divided by basins and Biscayne Bay into three regions. Each basin or region is analyzed separately. The Florida Keys design involves dividing each area (basin or region) into sub-areas or cells. Five sampling units are selected in each sub-area and were revisited in a five year rotation. At each sampling unit 10 (0.25 squared meters) quadrats are assessed using the Braun-Blanquet method to assess seagrass density, composition, epiphytic load and biomass by species. These data are already analyzed and reported through the
Comprehensive Everglades Restoration Plan (CERP)
Restoration Coordination and Verification (RECOVER) Program Monitoring and Assessment Plan System Status Report by first analyzing the number of sampling units with seagrass present and then the density of seagrass at units where it is present and then combining the two into a single index. The South Florida/Caribbean Network hopes to coordinate with these programs to report results through the vital signs program as well. However, the network will work with
Everglades National Park (EVER)
resource management staff to review these programs as the resource management staff have expressed concerns that these programs are not sufficient to meet park management information needs.
For the coastal shelf area of
Biscayne National Park (BISC)
and
Dry Tortugas National Park (DRTO)
that is <20m deep, soft-bottom habitat will be sampled using a stratified random or a Generalized Random Tessellation Stratified (GRTS) sampling design using a protocol adapted from the Florida Keys and Florida and Biscayne Bays designs so that the network's sampling will be comparable to these other groups. For
Buck Island Reef National Monument (BUIS)
and
Virgin Islands National Park (VIIS)
, although some seagrass monitoring occurs as part of the habitat monitoring portion of the fish monitoring effort being jointly conducted by the National Oceanic and Atmospheric Administration (NOAA) Biogeography team and National Park Service staff, the power and design is insufficient to adequately monitor trends in seagrass. will first examine some protocols used with historical work in the U.S. Virgin Islands and compare with the south Florida protocols to determine which to use given the trade-offs of comparability with historical work versus having a single network-wide protocol.
Salt River Bay National Historical Park and Ecological Preserve (SARI)
and Buck Island Reef National Monument do not appear to need stratification although a spatially balanced approach to sampling is preferred. For Virgin Islands National Park, a stratification to allow increased sampling in areas of human impact such as Coral Bay and Cinnamon Bay will be considered.
It should be noted that some project specific monitoring is already being conducted by park staff. Biscayne National Park staff are already monitoring seagrass restoration sites and Virgin Islands National Park staff are monitoring effectiveness of mooring buoy installation on seagrass recovery.
Seagrass publications
Find all monitoring reports, protocols, and resource briefs below.
Last updated: November 4, 2020