Marine Fish Communities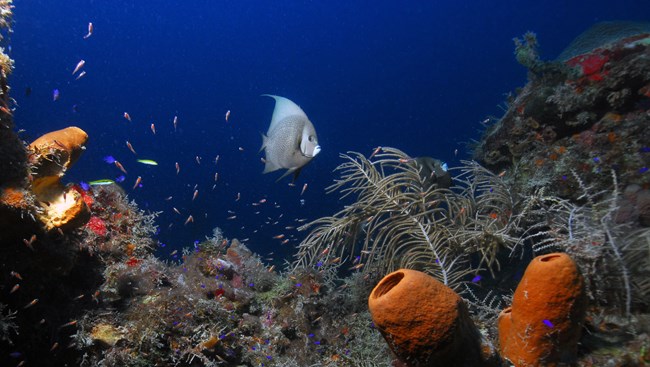 Introduction
Reef fish populations are valued as recreational and commercial fisheries, as popular attractions for divers and snorkelers, and as essential components of coral reef ecosystems. The health of reef fish communities has a large impact on the economies of South Florida and the U.S. Virgin Islands. Recent declines in these populations are believed to be due to significant increases in recreational and commercial fishing as well as severe habitat degradation. Monitoring assists management decision-making by documenting trends in reef fish abundance, community composition, distribution, and size structure; increasing understanding of how natural and man-made stressors are changing reef fish populations and communities; and evaluating the effectiveness of management actions such as no-take zones. Monitoring allows us to document reef fish community composition, abundance, and size structure and determine changes in these parameters over time within the Florida Keys, U.S. Virgin Islands, and inside vs. outside different management zones. Special attention is paid to specific exploited reef fish species.
South Florida Monitoring
Reef fish populations in Biscayne National Park, the Florida Keys and Dry Tortugas National Park are monitored in reef habitats via a collaborative multi-agency effort which was first implemented in 2008. A joint, inter-agency, peer-reviewed monitoring protocol was completed in 2009. These surveys were annual until 2012 but will continue on a biennial basis in South Florida, alternating years with US Virgin Islands reef fish monitoring. This monitoring protocol involves a "Reef Visual Census (RVC)" point count in which all fish are counted in a 15m diameter cylinder in a two-stage stratified random design. All fish species are recorded allowing evaluation of trophic structure and community change; however the sampling design is optimized with respect to eight focal species which are all important commercial and recreational fisheries in the South Florida region: white grunt, bluestriped grunt, hogfish, mutton snapper, gray snapper, yellowtail snapper, red grouper, and black grouper. Habitat data are also collected and used to update benthic maps and refine the analysis. Agencies involved include the National Oceanic and Atmospheric Administration Southeast Fisheries Science Center (NOAA SEFSC), Florida Fish and Wildlife Conservation Commission's Florida Fish and Wildlife Research Institute (FWRI), the University of Miami's Rosenstiel School of Marine and Atmospheric Science (UM-RSMAS), the National Park Service South Florida/Caribbean Network (SFCN), Everglades National Park (EVER), Dry Tortugas National Park (DRTO), and Biscayne National Park (BISC).

The report Implementing the Dry Tortugas National Park RNA Science Plan: The 5-year Report was published in 2012 by the National Park Service and The Florida Fish and Wildlife Conservation Commission. This report presents results on interdisciplinary studies focused on the performance efficacy of the no-take Research Natural Area (RNA). The report uses the multi-agency reef fish monitoring data in a chapter "Status of reef fish resources of the Tortugas region based on fishery-independent visual and trap survey assessments". Dr. Mike Feeley also co-wrote chapters on "Regional connectivity of fishes within the Tortugas region of Florida" and "Spillover of select reef fish species in and near the Dry Tortugas National Park Research Natural Area.
U.S. Virgin Islands Monitoring
The NOAA Center for Coastal Monitoring and Assessment (CCMA) Biogeography Team Coral Reef Ecosystem Monitoring Program (CREMP) has been monitoring reef fish in and outside Buck Island Reef National Monument (BUIS), Virgin Islands National Park (VIIS), and Virgin Islands Coral Reef National Monument (VICR) since 2001 using a multi-agency effort. Strata involve benthic habitat (hard bottom vs soft bottom), management (inside vs. outside protected area) and geographic zone. The overall design is stratified random with the sampling unit protocol being a visual belt transect (25m x 4m) conducted by scuba divers. Simultaneous measurements of benthic habitat (seagrass, coral), and other species of interest (lobster, conch, diadema) occur.
Marine Fish publications
Find all monitoring reports, protocols, and resource briefs below.
Marine Fish image gallery
Find pictures of marine fish below.
Last updated: March 30, 2021