Mangrove-Marsh Ecotone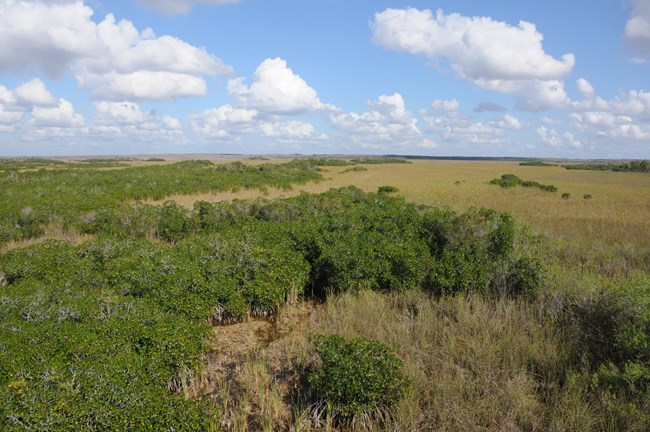 Ecotones are transitional zones between habitat types and can be dynamic in their spatial location. These ecotones as transitional zones can be large, expansive areas or sharp, distinct boundaries, such as the one that exist between mangrove communities and freshwater marshes in Everglades National Park (EVER) and Big Cypress National Preserve (BICY).

Tracking the position of the regional mangrove-marsh ecotone can indicate the long-term trajectory of this wetland ecosystem in the combined context of regional water management changes and sea-level rise. The South Florida/Caribbean Network has developed a protocol that describes the process used to monitor ecotonal movement of mangroves and upslope freshwater marshes in Everglades National Park and Big Cypress National Preserve. Given the potential for future sea-level rise and changes in freshwater flows, there is significant concern about the upslope movement of mangrove communities in South Florida.

The transition from freshwater graminoid marshes and cypress to mangrove communities can be effectively monitored using a combination of aerial photography (remote sensing) and on-the-ground data collection. Remote sensing approaches are used to delineate the physical location of the ecotone (boundaries) between mangroves and freshwater marsh. Fourteen 3 kilometer (1.9 mile [mi]) segments are systematically placed along the ecotone within the two parks. Aerial imagery is used to digitize the mangrove-marsh ecotone in each segment and must be 1 meter (3.3 feet [ft]) or better resolution and have positional accuracy of ± 3 meters (9.8 feet [ft]) or better. Four ground-truth field point locations (marker points) are established approximately 1 kilometer (0.62 miles [mi]) apart along the ecotone of each segment to provide field-based measurements and ground-truthing of the digitized line.

The specific objectives of the Mangrove-Marsh Ecotone Monitoring Protocol are to:
Determine the spatial and temporal movement of the mangrove-marsh ecotone at systematically selected segments.
Document the composition of vegetation communities at field verification locations. Collect vegetation data, e.g., composition, percent cover and canopy height of dominant species within herbaceous, shrub, and forest strata, in order to document composition of vegetation communities on both the "mangrove" and "marsh" sides of the ecotone.
Monitoring will be repeated approximately once every ten years as new imagery becomes available. The monitoring duties for the mangrove-marsh ecotone monitoring protocol will be completed by South Florida/Caribbean Network staff and the information collected used to support the management of natural resources in Everglades National Park and Big Cypress National Preserve.
Mangrove-Marsh Ecotone publications
Find all monitoring reports, protocols, and resource briefs below.
Last updated: June 12, 2019