Inventory & Monitoring at San Juan Island National Historical Park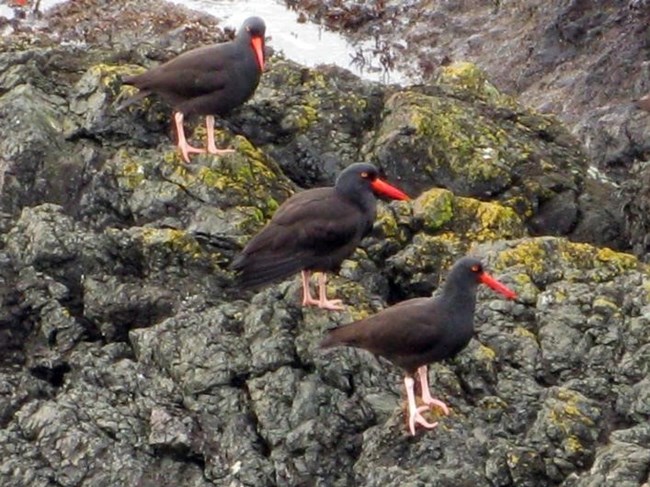 San Juan Island National Historical Park was established in 1966 to commemorate the historic events from 1853 to 1871 on the island in connection with the final settlement of the Oregon Territory boundary dispute, including the Pig War of 1859. It comprises 1,752 acres and preserves the sites of the American and English camps on the island. In addition to the historical buildings and features at both camps, the park contains important prehistoric Indian sites and is the largest public open space on San Juan Island.

Natural resources in the Park are varied and include: 6.1 miles of shoreline and intertidal habitat; 92 acres of wetlands, including 3 marine lagoons; 900 acres of grassland, which support varied raptor and songbird populations; a slightly smaller acreage of largely second-growth fir, cedar and maple forests and Garry oak woodland. Impacts from logging, grazing, and cultivation are evident at both camps, but small pockets of old growth forest remain.

The North Coast and Cascades Network provides natural resource inventory and monitoring information to help parks make effective, science-based management decisions. Inventories have been completed for birds, fish, mammals, reptiles & amphibians, and vascular plants (see species lists further down the page). Maps and reports detailing San Juan Island National Historical Park's vegetation, soils, and geologic resources are also complete.

For more information about San Juan Island National Historical Park, visit the Park website.
Publications
Monitoring Reports
Synthesis, Trend, and Journal Publications
Select a Park:
Select a Species Category (optional):
Search results will be displayed here.

Visit NPSpecies for more comprehensive information and advanced search capability. Have a suggestion or comment on this list? Let us know.
Last updated: August 24, 2023