Inventory & Monitoring at North Cascades National Park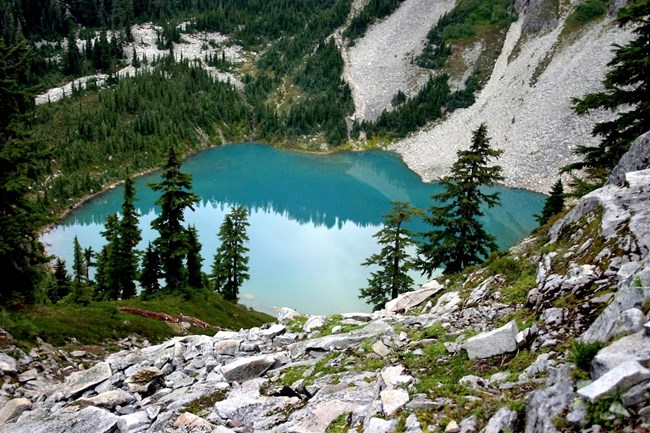 North Cascades National Park Complex is located in northwestern Washington and is composed of three park units: North Cascades National Park, Lake Chelan National Recreation Area, and Ross Lake National Recreation Area. North Cascades National Park Complex lies within two very different biogeographic zones, the temperate marine on the west side of the Cascade crest and the semi-arid continental east of the crest. Elevation gradients are extreme and range from 119 m in the low elevation forested valleys to 2,806 m at high elevation glaciated mountain peaks. Total land area of this extensive mountainous terrain encompasses 276,815 ha, of which approximately 93% is designated wilderness.

The Cascade crest creates a rain shadow effect to the east and a climate that is much more influenced by continental air masses. As a result, east-slope conditions consist of cold winters and warm dry summers, with average annual precipitation measuring from 76 cm in the lower Stehekin Valley to 897 cm along the Cascade crest.

The North Coast and Cascades Network provides natural resource inventory and monitoring information to help parks make effective, science-based management decisions. Inventories have been completed for birds, fish, mammals, reptiles & amphibians, and vascular plants (see species lists further down the page). Maps and reports detailing North Cascades National Park's vegetation and soils are complete and are in progress for geologic resources.

For more information about North Cascades National Park Complex, visit the Park website.
Publications
Monitoring Reports
Synthesis, Trend, and Journal Publications
Select a Park:
Select a Species Category (optional):
Search results will be displayed here.

Visit NPSpecies for more comprehensive information and advanced search capability. Have a suggestion or comment on this list? Let us know.
Last updated: August 24, 2023