Inventory & Monitoring at Ebey's Landing National Historical Reserve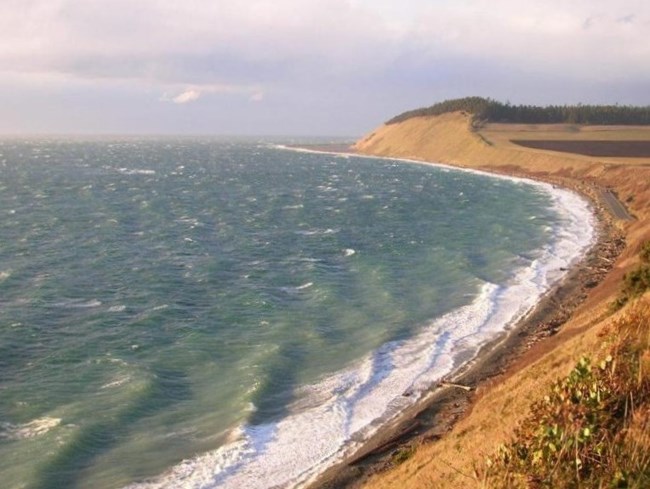 Ebey's Landing National Historical Reserve was established in 1978 to preserve and protect a rural community on Whidbey Island. The historical landscape of the reserve today looks much like it did a century ago - a mosaic of farms, forests, and century old buildings and homes. The site encompasses 25 square miles (17,400 acres) and includes federal, state, county, and private property. The Reserve commemorates exploration of Puget Sound by Captain Vancouver in 1792, settlement of the area by Colonel Isaac Ebey, and early active settlement in the 1850's. The Reserve is also the site of early Skagit Indian habitation, as early as 1300.

The Reserve is located in the western hemlock forest zone of western Washington. The unique climate, rainshadow effect of the Olympic mountains (19 inches of rain annually), productive agricultural soils, maritime influence, and geologic features result in an unusual diversity of plant and animal species, communities, and habitats. The diverse native flora ranges from small, scattered stands of old-growth Douglas-fir forest, flat-leafed cactus, and miles of hedgerows to dense rhododendron thickets, salt marsh communities, and a small area of pristine prairie. Numerous populations of invasive exotic flora also exist within the Reserve.

The North Coast and Cascades Network provides natural resource inventory and monitoring information to help parks make effective, science-based management decisions. Inventories have been completed for birds, fish, mammals, reptiles & amphibians, and vascular plants (see species lists further down the page). Maps and reports detailing Ebey's Landing National Historical Reserve's vegetation, soils, and geologic resources are also complete.

For more information about the park, visit the Reserve website.
Publications
Monitoring Reports
Synthesis, Trend, and Journal Publications
Select a Park:
Select a Species Category (optional):
Search results will be displayed here.

Visit NPSpecies for more comprehensive information and advanced search capability. Have a suggestion or comment on this list? Let us know.
Last updated: January 7, 2020