Inventory & Monitoring at Cape Cod National Seashore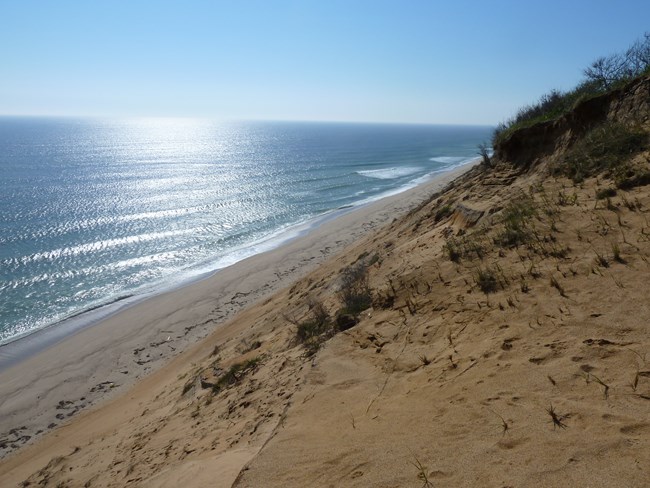 Cape Cod National Seashore preserves approximately 17,442 hectares of uplands, wetlands and tidal lands located on Outer Cape Cod, Massachusetts. A mosaic of natural and cultural resources, which are the result of dynamic natural processes and at least 9,000 years of human activity, characterizes CACO.

The natural terrain contains an exceptional array of coastal communities, including pitch pine/oak forest, heathlands (nearly the entire eastern U.S. distribution of heathlands is restricted to fragments on the Outer Cape and in coastal Maine), dunes and coastal plain pond shores. There is also a wide diversity of aquatic and marine habitats, such as kettle ponds, cedar swamps, vernal pools), drowned river valley salt marshes, back barrier salt marshes, barrier spits and inter-tidal mudflats. These habitats support numerous state, federal, and globally rare, threatened, and endangered species of plants, invertebrates, and vertebrates. For many, CACO provides some of the best quality remaining habitat and offers prime opportunities for their preservation regionally. The great Outer Beach also provides outstanding examples of dynamic geomorphic processes.

During the past three centuries Cape Cod ecosystems have been profoundly altered by human occupation. For example, construction of dikes and roadways in estuaries has changed natural tidal regimes and resulted in degradation of water quality and loss of native plant and animal species. Beach and dune stabilization efforts have interfered with natural morphological processes on shorelines. Discharges from nonpoint sources of pollution such as landfills, septic systems, and golf courses have adversely affected surface and groundwater quality. Fire suppression has altered the distribution and volume of the heathland and pitch pine communities that predominated before European settlement. Some of the highest ozone levels in the northeast have been recorded at CACO. Municipal and private in-holdings and over 5 million visitors annually create a formidable challenge to protection and management of natural resources.

Over 800 species of plants are extant in CACO in a wide range of community types including heathlands, fresh and salt water wetlands, tidal marshes, upland forests, beaches, dunes and grasslands. CACO's natural resource management program faces a number of increasingly complex and challenging issues. The following is a list of current park management issues faced at the park.

Aquatic/estuarine issues: Cultural nutrient enrichment of kettle ponds and salt marsh, historic diking of salt marshes and need for restoration, mosquitoes and political pressure for mosquito management, groundwater withdrawal and impacts to wetland vegetation and animal life, recreational trampling of kettle pond, shoreline vegetation, horseshoe crab harvesting.
Development associated issues: Residential development within and especially immediately adjacent to the park, leading to: habitat fragmentation and increases in road kills, increased pet predation on native wildlife, groundwater withdrawal and septic inputs, increased levels of human activity/disturbance within the park.
Landscape/vegetation issues: Landscape significantly altered by Europeans over nearly 4 centuries. Much of vegetation is a post-agrarian mix of native and alien species, alien species dominate in many places, even in native dominated vegetation, community structure does not represent natural condition, fire suppression impacts, loss of grassland/heathland habitats-determining relative amounts that were natural versus anthropogenic.
Recreational impacts: Numerous social trails/trampling of vegetation/mountain bike trails, jet skis, pets off leash/hunting dogs, releasing nonnative pheasants for put/take hunting, trampling of dune vegetation.
Preservation of native species biodiversity: Determining extent to which all of the issues listed above contribute to this issue, except for federal listed species, status and distribution of most state-listed species is unknown, out of date, incomplete. Many other species of formerly common species appear to be declining. Data on their status and distribution are lacking. Others appear to have disappeared in recent years. Loss of heathland grassland habitat and declines in associated wildlife species.
Shoreline dynamics: Accelerated rates of erosion due to recreational impacts dredging/deposition of spoil.

Vegetation Classification
Last updated: December 7, 2018