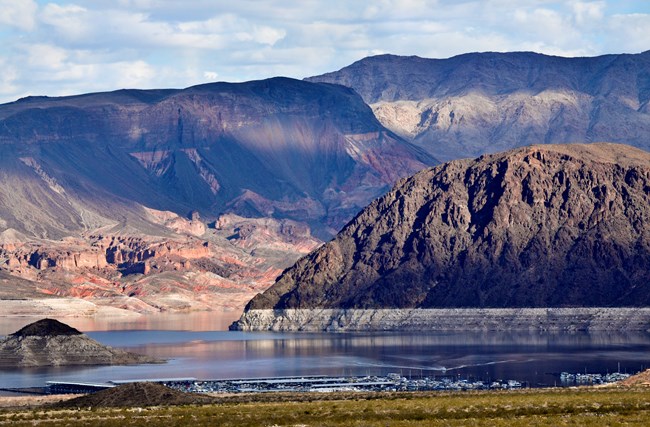 Lake Mead National Recreation Area was established in 1936, and it offers a range of natural, cultural, and recreational resources on both land and water. The park encompasses nearly 1.3 million acres and includes more than 140 miles of the Colorado River.

The park's land is centered on two man-made lakes, Lake Mead and Lake Mohave. These are the premiere inland water recreation areas in the West and a primary source of drinking water for southern Nevada. The park lies along the northeast boundary of the Mojave Desert, and is home to species species representing to the Mojave, Sonoran, and Great Basin desert ecosystems.
The Mojave Desert Network provides natural resource inventory and monitoring information to help parks make effective, science-based management decisions. Inventories have been completed for mammals, fish, birds, vascular plants, and reptiles & amphibians (see species lists further down the page). Maps and Reports detailing Lake Mead's vegetation, soils, and geology resources are also complete.

Monitoring at Lake Mead National Recreation Area
Ongoing Monitoring Efforts
Integrated Uplands vegetation and soils monitoring of the Creosote - White Bursage community
Selected Large Springs monitoring water quality and availability at Blue Point Spring
Desert Springs monitoring water quality and availability at 44 smaller seeps and springs
Coming Soon (additional monitoring currently in development)
Bat population monitoring using acoustic and capture surveys
Spring Vegetation monitoring at Blue Point Spring
Invasive & Exotic Plants