Climate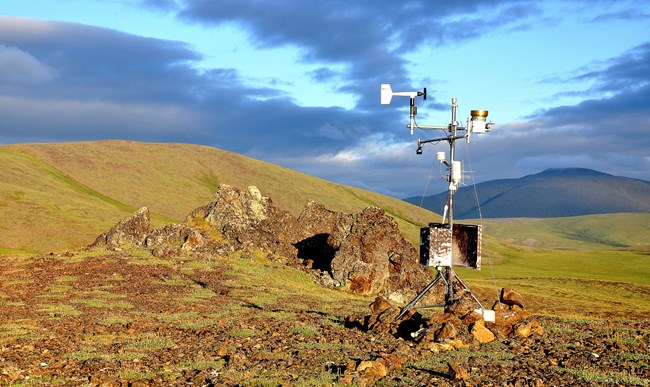 Weather and climate are key drivers in ecosystem structure and function, and the high-latitudes Arctic parklands are undergoing rapid change. Arctic parklands have limited incoming solar warmth in the winter and an abundance of available light in the summer. Climate patterns in Alaska are primarily influenced by latitude, continentality, and elevation. Major topographical influences include the Brooks Range arcing across Arctic Alaska from the Chukchi Sea to the Canadian Border, and the Kigluaik and Bendeleben Mountains traversing the central Seward Peninsula. The proximity of both the Bering and Chukchi seas to the parks in northwest Alaska and, more importantly, the presence or absence of sea ice, influences land surface temperatures and available moisture for these parks. Sea ice concentration and temperature are strongly correlated in northern Alaska. Over the past 30 years, sea ice extent and volume have been decreasing and the sea-surface temperatures of the north Pacific Ocean over the past several years have been above normal, leading to record warm temperatures over northwest Alaska.

We monitor climate across Arctic parklands to better understand climate variation as well as long-term changes in park ecosystems by:
monitoring and recording weather conditions at representative locations in order to identify long- and short-term trends.
providing reliable climate data to other researchers.
and participating in larger-scale climate monitoring and modeling efforts beyond park boundaries.
See our weather summaries.
Contact: Pam Sousanes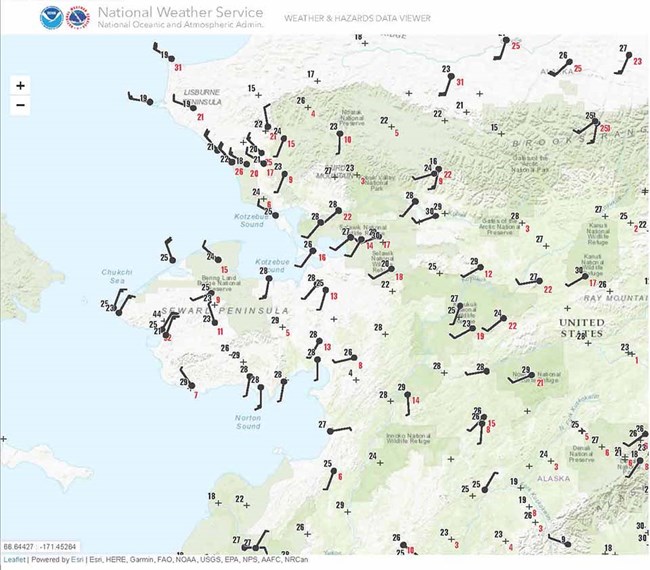 ---
National Weather Service
Weather and Hazards Data Viewer
See the most recent observations from our weather stations.
Also see new
PRISM data
available. Average monthly and annual precipitation and minimum, maximum, and mean termperature data for the period of 1981-2018 are available for the state of Alaska. The PRISM (
Parameter-elevation Regressions on Independent Slopes Model
) climate mapping system integrates existing climate station data with scientific understanding of general climate processes and local climate features.
---
Visit our keyboard shortcuts docs for details
Duration:

4 minutes, 17 seconds
National Park Service ecologist David Swanson explains the Arctic Network Inventory & Monitoring team's use of remote cameras to study seasonal changes across Alaska's northernmost national parks. Each camera is part of climate monitoring station that records weather conditions at locations across Bering Land Bridge National Preserve, Cape Krusenstern National Monument, Gates of the Arctic National Park and Preserve, Kobuk Valley National Park, and Noatak National Preserve. In doing so, we can identify long and short-term trends, provide reliable climate data to other researchers, and participate in larger scale climate monitoring and modeling efforts beyond park boundaries.
Last updated: August 16, 2020