Things To Know Before You Come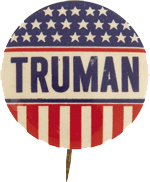 How to Get a Ticket for a Tour of the Truman Home (Required)

First, please stop at our visitor center at 223 North Main Street, in Independence. At the visitor center, you can acquire your ticket(s), see some fascinating items from our museum collection, explore our bookstore, and Talk Truman with our Rangers and Volunteers.

There is no charge for tickets to the Truman Home tours. Admission to the Truman Home is by guided tour only. Each tour is limited to 8 people. Tickets are offered on a first-come, first-served basis and must be acquired at the Visitor Center on the day of the tour. Tickets may sell out by early afternoon on weekends, around holidays, and daily during the summer season. Tour time availability is dependent on staffing levels.

Tours are limited to 8 persons per tour to ensure the ongoing preservation, protection and integrity of the Truman Home, and the wonderful gift that Mrs. Bess Truman left the American people in her will.

Visitor Parking
Parking is available in the lot just west of the Visitor Center as well as on Main St. Although limited, street parking is available along Delaware and Maple adjacent to the Truman Home. Ask at the Visitor Center for RV and trailer parking locations.
Items Not Allowed
No food, drink or gum is allowed in the Visitor Center, Truman Home or Truman Farm Home. Smoking is not permitted. Photography is not allowed inside the Truman Home or Farm Home. Please do not bring large bags or backpacks on tours. For the enjoyment of our other visitors, we ask that you turn off cell phones and other personal devices while on tour.
Firearms and Other Weapons
Legislation: As of February 22, 2010, a new federal law allows people who can legally possess firearms under applicable federal, state, and local laws to legally possess firearms in this park. Refer to Section 512 of the Credit Card Accountability Responsibility and Disclosure Act of 2009, Public Law 111-24, 123 Stat. 1764-65.
Park User Responsibility: It is the responsibility of visitors to understand and comply with all applicable state, local, and federal firearms laws before entering this park. As a starting point, please see the Missouri Revised Statutes, Chapter 571.
Weapons Prohibited in Federal Facilities: Federal law also prohibits firearms in certain facilities in this park; those places are marked with signs at all public entrances. Specifically, firearms are prohibited inside the park visitor center and the Truman Home in Independence. Firearms are also prohibited inside the Truman Farm Home in Grandview. Refer to 18 U.S.C. § 930.


Last updated: May 23, 2019