Mobile/Cell Phone Tours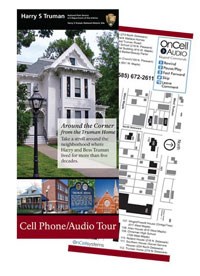 Harry S Truman National Historic Site offers smartphone/cell phone audio tours of the historic site and surrounding areas. Three tours covering several tour stops are currently available.
The Truman Farm takes visitors around the grounds of the family farm in Grandview and discusses the 11 years Truman spent there as a young man.
Around the Corner from the Truman Home gives visitors the chance to see several structures important to Truman throughout his private life and starts at the Truman home in Independence.
The Political Education of Harry Truman starts at the Truman statue on the Independence town square and takes visitors past several buildings that were significant in Truman's early political years.
The audio tours provide visitors with another option to learn more about Harry Truman, both as an individual and as a president. The cell phone program is provided by OnCell Systems of Pittsford, New York and calls to this number, (585)672-2611, are free except for air time on your cell phone. Visitors using the program can also leave comments about the tour with their cell phone.

Click here to access the cell phone/ web tour!

Have a Smartphone? We also have QR codes for your tour, which can be scanned by using a smartphone scanner app. Visitors carrying Smartphones can simply scan the QR code and stream the park's OnCell Tour. The QR Tour links to OnCell's Mobile Web Site, which features Harry S Truman National Historic Site's interpretive content and more.
Last updated: May 19, 2022