The Noland Home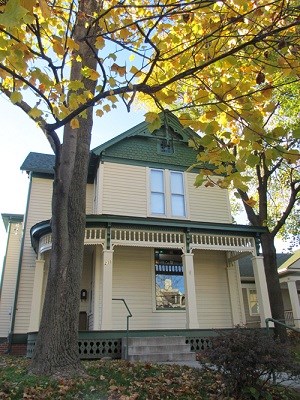 Harry Truman's cousins, Nellie and Ethel Noland, lived at 216 N. Delaware St., and he often visited them on weekends away from his work on the family farm in Grandview. In 1910, Truman returned a borrowed cake plate from across the street, an experience that would reconnect him with his childhood friend, Bess Wallace. The courtship was on.
Harry S Truman National Historic Site acquired the home of Joseph T. Noland and Margaret Ellen Truman Noland in 1991. Significant planning and rehabilitation have been necessary to repair the structure, built in three stages between 1858 and 1910. The first phase, completed in 2006, raised and placed the structure on a new foundation.
The interior of the structure was completely gutted. All of the windows were repaired. New plumbing and electrical systems were installed. On the exterior, rotten siding was replaced and the house received a new roof and a fresh coat of paint. Historic interior features like woodwork and stained glass were preserved. Original fixtures, samples of wall coverings and exterior architectural elements have become part of the museum collection.

Last updated: December 3, 2015