Suited for a President
Harry Truman had strong opinions about his clothing. Having once owned a haberdashery in Kansas City, he knew something about menswear and dressing the part. Friends he made in the business later became his personal tailors. One tailor remarked, "He was wonderfully dressed, but he didn't go in for high-fashion clothes, just plain clothes."
When Truman became president, he favored double-breasted suits with large, peaked lapels. During the 1960s, his suits followed the trend for slim, single-breasted styles. Fashion writers criticized President Truman for not being up-to-date on the current trends. British tailors were especially critical of Truman's dress to which he responded that it was none of their business.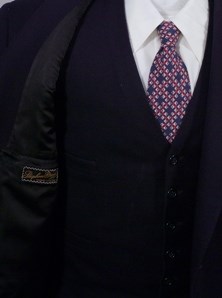 Kansas City tailor, Stephen Brod, whom Truman favored during the presidency, made many of his suits. Other tailors included his longtime friend Ted Marks, and Sol Stolowy of Kansas City Custom Garment Company.
This visual tour of the suits in the Harry S Truman NHS collection provides a chronological view of President Truman's suits, sports jackets and tuxedos. Over 50 years of Harry Truman's personal style is revealed, from his 1919 wedding suit to one of his last tailored suits in 1972.
Last updated: August 3, 2021