Pets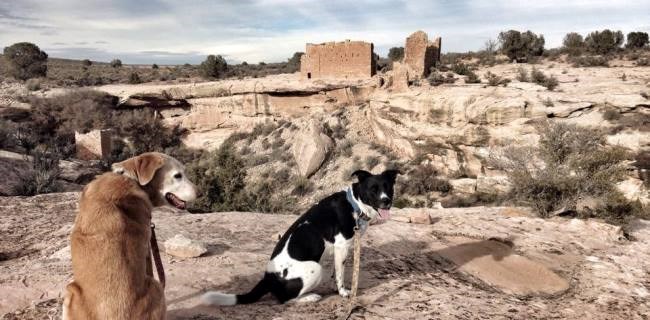 Pets are allowed on trails and in the campground at Hovenweep National Monument. Pets are not permitted in the visitor center. Just like humans, pets must stay on trail at all times, including sidewalks.
Pets Must be on Leashes
Pets must be on a leash at all times, 6 feet long maximum, even in your campsite. Keeping pets leashed is both to protect the park and your pet. Even well-trained animals can react oddly and erratically in new environments, so a leash can be comforting and help your dog act normally. Mountain lions and coyotes are also found in the park and may harm your pet if given the chance.
Please Pick up After Your Pet
Picking up after your pet is a park rule as well as a kind gesture to other hikers and wildlife living in the area. Pet waste can be harmful to wild animals. Pet Waste Stations with disposal bags are conveniently located at the visitor center and campground.
Be Safe
The desert can be deadly for pets. Some plants may be dangerous or deadly to animals. Exposed slickrock, which many of our hiking trails cross, can also be very hot in the summer. In summer, check the slickrock with your palm before letting your pet walk on it. If it's too hot for your hand, it may scorch your pet's paws!
Last updated: February 2, 2018