Geology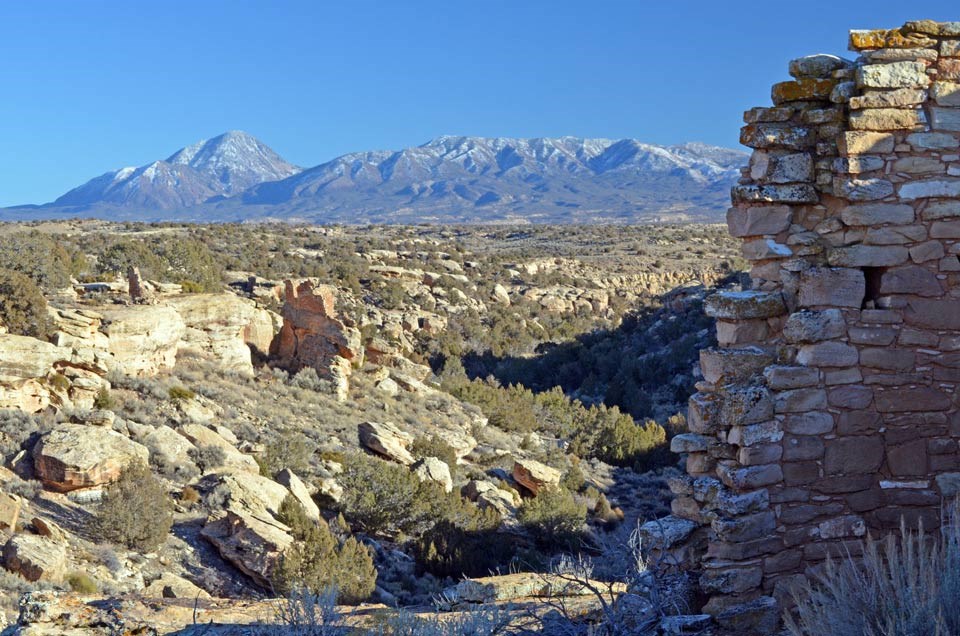 A sea of rippling rock, cut by canyons and marked by mountains. This landscape is a testament to the powers of wind, water, and time. Laccoliths (isolated mountain ranges) dot the horizon in all directions. Potholes catch rain water for living things big and small. Biological soil crusts let plants thrive. From the first Paleoindian hunter to modern farmers, all lives here are shaped by the rock.
The Tilted Table
Hovenweep is part of a region called the Colorado Plateau, a high desert covering the four corners in the southwest. 90 percent of the Colorado Plateau is the San Juan River Basin, or land that water drains through to reach the San Juan River. This drainage carved the winding canyons in Hovenweep, giving shelter and water to plants and wildlife, and later people.
Within the basin and plateau, Hovenweep is located on Cajon Mesa. Mesa, meaning 'table' in Spanish, refers to a high plain with a flat top. However, Cajon Mesa is tilted to the southwest. Elevations near Cutthroat Castle reach 6,800 feet, but fall to 4,900 feet near Cajon Ruin. This elevation change means Cutthroat Castle has more trees and wetter seasons than Cajon.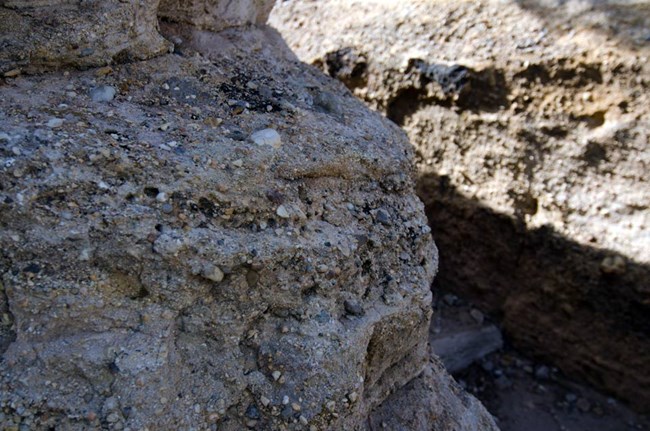 A Tale of Two Layers
At Hovenweep, the top rock layer is Dakota Sandstone. Dakota Sandstone is made up of yellow/gray sandstone, mudstones, and a few thin beds of coal. This layer represents transitions from river to swamp to marine conditions and was deposited 30-70 million years ago (late Cretaceous period). Ancestral Puebloans used the sandstone to make manos and metates, tools used to grind corn. More evident today are the still-standing towers and castles made of the same.
Look for Dakota Sandstone at Hovenweep:
open slickrock on canyon rims
coal deposits along the trail to Twin Towers and in the canyon crossing (Square Tower Loop)
Below the Dakota Sandstone is Burro Canyon Formation, the only other rock stratum (geographic formation layer) visible in Hovenweep. Burro Canyon Formation is made of white conglomerate, green shale, mudrock, and sandstone layers with interspersed pebbles and cobbles of chert as well as limestone and quartzite. This layer was deposited by an ancient river and floodplain over 100 million years ago (early Cretaceous period). Ancestral Puebloans used rocks from Burro Canyon Formation to make tools like chert knives and arrowheads.
Look for Burro Canyon Formation at Hovenweep:
along the canyon crossing section of the Square Tower Loop trail
along the trail near Cutthroat Castle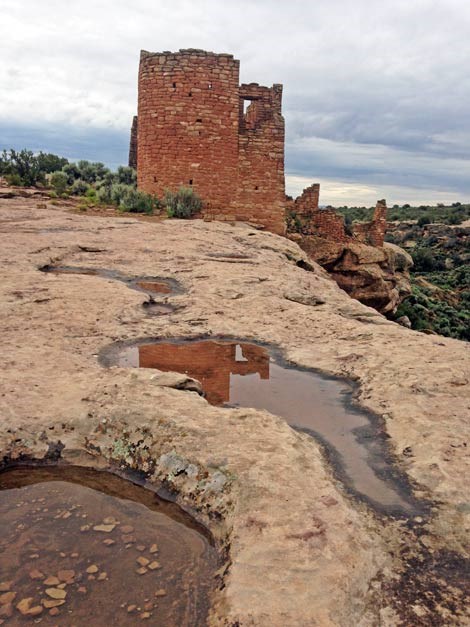 Where's the Water?
Hovenweep's two rock strata are perhaps the most significant features of the park. These two layers act as a sponge and funnel for water, an important resource for any and all life.
On the surface, rainwater collects in ephemeral pools, or potholes in the sandstone. Where does the rest of the water go? Some soaks into the sandstone, where it slowly trickles further into the rock. The water eventually hits Burro Canyon Formation, a very solid layer. At that point, the water travels horizontally until it seeps through the nearest opening. The water collects below the seep into a spring.
These seeps and springs are one of the biggest reasons people can live here – from early Paleoindians camping nearby to the ancestral Puebloans building entire villages around the spring. Where there is water, there is life, all thanks to rock.
Red dirt, Green Thumb
The red-brown loess soils at Hovenweep today were blown here by southwestern winds less than 10,000 years ago. This soil allowed a major lifestyle change for the Ancestral Puebloans, from hunting and gathering to agriculture. Composed of fine-grained sandstone and iron oxide, this soil supported crops of corn, beans, and squash for hundreds of years. Today, it allows farmers to grow alfalfa, bean, wheat, and safflower in nearby Montezuma Valley communities.
Last updated: March 10, 2019