Directions & Transportation
What to put in your GPS

Heritage Center:
Homestead National Historical Park
24405 SW 75th Road
Beatrice, NE 68310

Education Center (use this one for mailing address):
Homestead National Historical Park
8523 West State Hwy 4
Beatrice, NE 68310
Contact Us:
e-mail us
402-223-3514
Find Us...

By Plane: Full service commercial airports with major carriers are available in Lincoln, Nebraska [located 35 miles north of Beatrice] and Omaha, Nebraska [located 90 miles northeast]. Kansas City, Missouri is the nearest international airport and is located 200 miles southeast. Beatrice, Nebraska which is 4 miles away has an airport for corporate and private airplanes.
By Car: Homestead National Historical Park of America is approximately 40 miles south on Interstate 80, a major east-west artery in the United States. Four-lane U.S. 77 connects I-80 with Beatrice, Nebraska. Beatrice is also approximately 70 miles west of Interstate 29, a major north-south artery from Kansas City, Missouri through Council Bluffs, IA, Sioux City, IA, Sioux Falls, SD, and Grand Forks, ND to the Canadian border. U.S. 136 connects I-29 with Beatrice, Nebraska. U.S. 136 has been designated as Heritage Highway, a Nebraska Scenic Byway. The park is 4 miles west of Beatrice on State Highway 4. From the U.S. 77 and U.S. 136 intersection in downtown Beatrice take U.S. 136 approximately 1.2 miles west. Turn right onto Nebraska Highway 4 and follow the signs.After the road has curved west and you have traveled 4 miles, you will enter Homestead National Historical Park and see signs for the different buildings at the park. First you will pass the Heritage Center on the hill to your left. The Education Center is 3/4 miles further, also on your left. In another 1/4 miles you will reach the Freeman School on your right.
Tour Buses: Follow the car directions above. For more information about bus tours to Homestead, click here.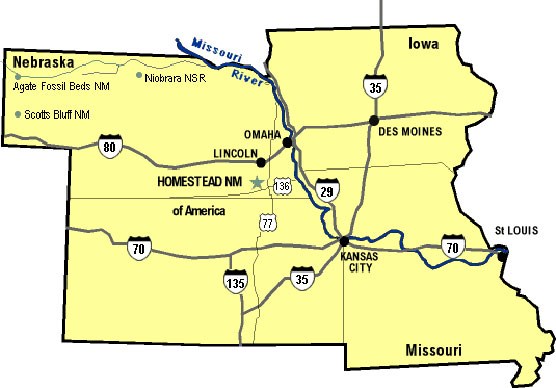 Last updated: February 22, 2021