Bus Tours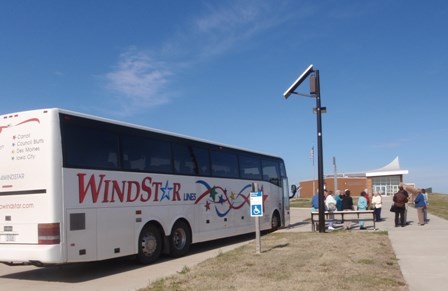 Plan your group tour now!

Many commercial bus tours visit Homestead National Monument of America every year while traveling through southeast Nebraska or the Beatrice area.To ensure a pleasant and safe visit, commercial bus companies, guides, and drivers, are asked to reserve a time for their visit in advance.
Program Reservations & Cancellations
While it is not required, tour groups are encouraged to make reservations by calling 402-223-3514.
If it is necessary for your group to cancel or modify your visit, prior to the scheduled program please call (402)-223-3514.
There is no entrance fee to visit the monument and no extra charge or permit required for commercial bus or group tours. Bus parking is available at the Homestead Heritage and Education Centers as well as at the Freeman School.
What to Do During Your Visit (Top 10)
10. Visit the award-winning Homestead Heritage Center that is home to the National Museum of Homesteading. View the 23-minute award-winning film "Land of Dreams: Homesteading America."
9. Enjoy special exhibits and farm/household displays at the Education Center.
8. Travel back in time by visiting historic buildings including the Freeman School and Palmer-Epard Cabin.
7. Participate in special events such as living history or nature programs. Learn more about Homestead's special events.
6. Shop the bookstores at the Heritage Center and Education Center for books, souvenirs, and gifts. Profits from sales are returned to the park to enhance educational and interpretive activities and to fund research.
5. Get active in nature by walking or hiking the trails through the tallgrass prairie or find solace in the bur oak forest.
4. Eat a picnic lunch at one of the picnic areas or contact a local caterer and have your lunch delivered.
3. Research your family history and view your ancestor's homestead records at the Heritage Center.
2. Participate in Ranger-guided tours, self-guided programs like the Junior Ranger and Not-so Junior Ranger programs, or watch out for special hands-on traditional craft demonstrations!
1. Have fun!

View Sample Itineraries:
Full Day
Half Day #1
Half Day #2
Half Day #3

There are many special events and activities throughout the year. Visit our schedule of events to learn more.


Also, check out these sample road trips from the Nebraska Tourism Commission:
Southeast Nebraska Tour
Heritage Highway
Byway 136
O' Pioneers: Exploring Southeast Nebraska (Group Tour)

Group tours visiting Beatrice, Nebraska, Southeast Nebraska or Northeast Kansas, can learn about these other sites to visit while in the area.
Beatrice Chamber of Commerce
Nebraska Travel and Tourism
Kansas Travel and Tourism
Lincoln Chamber of Commerce
Last updated: January 16, 2018