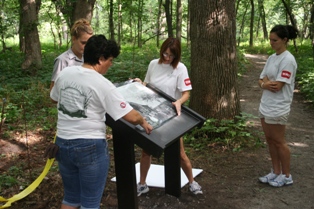 News Release Date:
August 6, 2008
Contact: Merrith Baughman, 402-223-3514
New Trail, School Exhibits Placed at Homestead National Monument of America
New trailside exhibits were placed at Homestead National Monument of America. In all, sixteen new "wayside" exhibits were erected at various locations within the monument. The exhibits explain such subjects as the rectangular survey system, homesteader transportation, the importance of water to pioneer farmers, the Palmer-Epard cabin, the importance of one-room schools to homesteader communities and more. The exhibits were made possible by the generous support from the Toro Giving Program of Bloomington, Minnesota and Exmark Manufacturing Company Incorporated in Beatrice , Nebraska . The two provided over $33,000 in grant funding for the design and fabrication of the new exhibits. Exmark employees joined National Park Service personnel to place the exhibits along the trail system. 
     "Exmark is very proud of our southeast Nebraska roots, which we share with Homestead National Monument of America," said Mark Stinson , Exmark president.  "We certainly recognize the good work Homestead National Monument does to educate the nation about the legacies of the Homestead Act and the history of this region. It is our honor to partner with the Toro Giving Program in supporting this important effort.
     "Wayside exhibits are ideal for providing visitors with information about the specific locations on which they are standing," said Mark Engler, Superintendent of Homestead National Monument of America .  "These new exhibits will really help us interpret the prairie, the Palmer-Epard cabin, and the Freeman School . We're very grateful for the generosity of the Toro Giving Program and Exmark Manufacturing, and we hope everyone will visit the monument to explore and learn from these new educational signs." 
     These new wayside exhibits are a continuation of changes that have been underway, since the construction of the Homestead Heritage Center , at the monument.