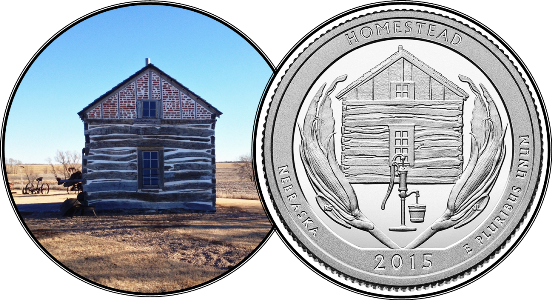 The Quarter is Here!
Now you can carry a piece of the homesteading story in your pocket! After lots of planning and excitement, the America the Beautiful quarter featuring Homestead National Monument of America has arrived. The final quarter design, created by U.S. Mint artist Ron Sanders, can be seen below and is a representation of the things homesteaders needed to survive: food, housing, and water.

U.S. Mint Lesson Plans
Celebrate the monumental release of the Homestead Quarter with your students! Access lesson plans and activities to learn about this exciting quarter design. These plans, created by the U.S. Mint, are for grades 2-3 and grades 7-8.

How to get your own Homestead quarter
From the Bookstore at Homestead National Monument of America: Purchase a special packaged quarter or P and D set of quarters from the Friends of Homestead through our cooperating association, Eastern National. You can purchase these sets in a special box at Homestead's bookstores, along with other commemorative quarter items such as key chains.
From a Beatrice bank: Banks in Beatrice, Nebraska will have quarter rolls available for exchange.
From another local bank: In order to get the Homestead quarter from your bank (outside Beatrice), you can request that your local bank place an order for the quarters. They need to specify Homestead quarters when ordering from the Federal Reserve Banks.
From the U.S. Mint: Rolls of Homestead quarters will be available for order via the U.S. Mint website. They will be sold as a two-roll set; one from Philadelphia and one from Denver Mint. This product will sell for $32.95 + $4.95 shipping.They will also have $100 bags of quarters and bullions (5 oz. silver coins) available at the same time. You can find other Homestead quarter rolls, sets, and items for sale from the U.S. Mint's catalog.