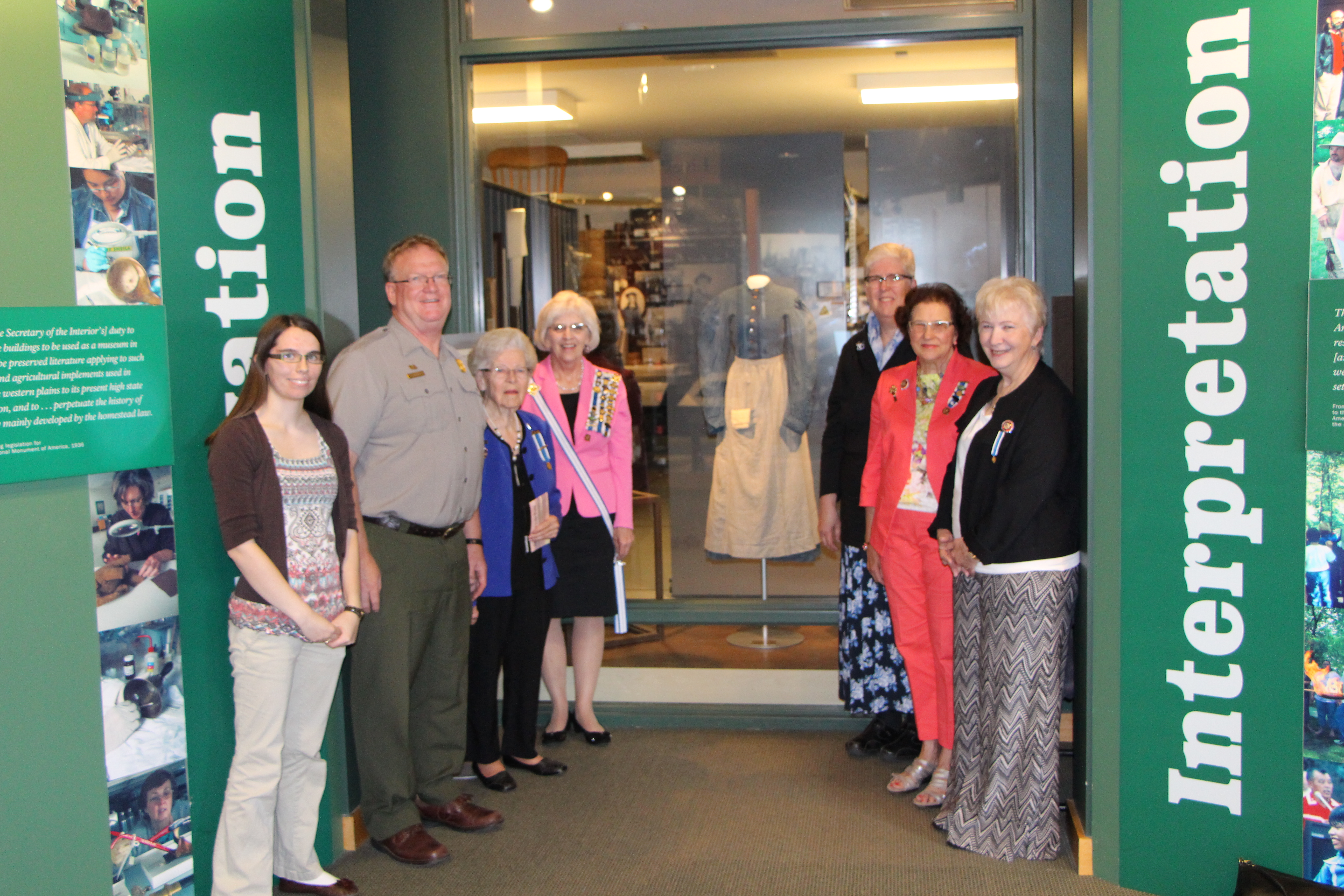 News Release Date:
October 14, 2015
The Nebraska Daughters of the America Revolution (DAR) recently donated a conservation quality dress form to Homestead National Monument of America. This dress form will allow Homestead National Monument of America to properly display women's clothing for the public to see. There is a sizable collection of women's clothing in the museum collection at Homestead. Thanks to the efforts of the DAR these items can be displayed for all visitors to see. This project was headed by Jackie Ohlmann, Honorary State Regent.
On October 1st members of DAR were at Homestead to celebrate this new dress form that is currently on display, with a Victorian dress. This dress exhibit can be found in the monument's open curatorial exhibit area at the Homestead Heritage Center. Six DAR members were able to attend from all across the state:State Vice Regent Connie Plettner, Honorary State Regent Beth Haring,Honorary State Regent Jackie Ohlmann, Reavis Ashley Chapter regent Leota Uhri,Ann Mosere, and Sandy Mittelsteadt.
Even before there was a Homestead National Monument of America the Daughters of the American Revolution had a hand in preserving the story of homesteading. In 1925 after the first attempt at creating a national monument failed the DAR placed a stone monument on Daniel Freeman's plot of land commemorating it as the first homestead filed under the Homestead Act of 1862. Over the last ten years the DAR has provided funding for a variety of projects, including digitizing and transcribing oral histories that Homestead National Monument of America collected over the years.
 "The Daughters of the American Revolution are dedicated to historic preservation. As the granddaughter of Nebraska homesteaders it was easy for me to select support of the Homestead National Monument of America for my state regent's project. Soon after becoming Nebraska State Regent in August 2012 I communicated with Blake Bell, historian at the monument. He expressed the need for digitizing oral histories. The Nebraska Daughters gave overwhelming support to the project to the extent that we had sufficient funds to also donate the dress form. It has been a pleasure to work with Mr. Engler, Blake Bell, Andrea Bornemeier and Amy Neumann on these projects as together we work toward education and the preservation of homesteading history."  stated Jacqueline Ohlmann. 
Remember, Homestead National Monument of America has an exciting schedule of events planned for 2015 and 2016. Keep up with the latest information by following us on Twitter (HomesteadNM), Facebook (HomesteadNM), and Instagram (HomesteadNPS).