200 visitors from 20 states and Linda Stephen Create Art at Homestead National Monument of America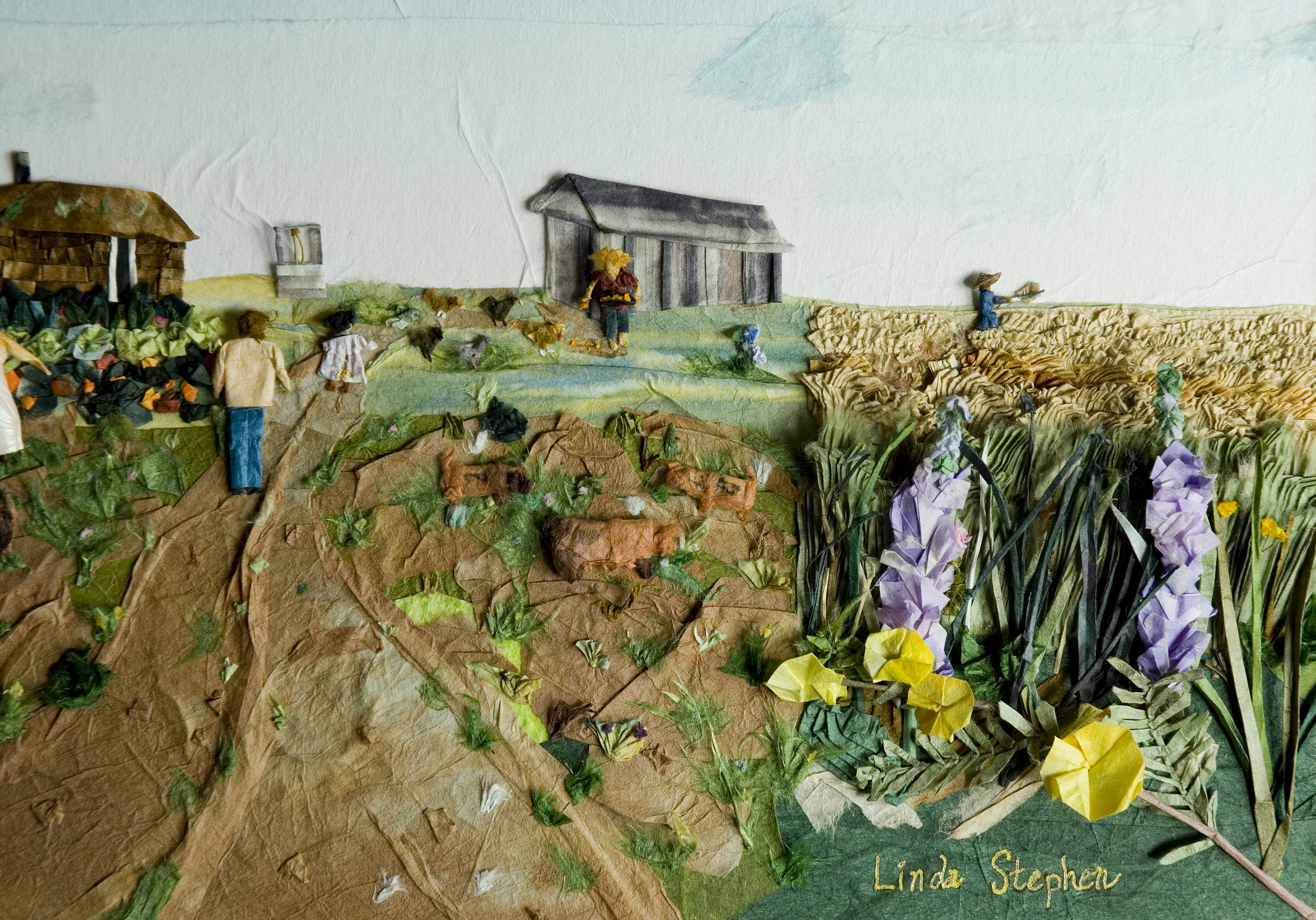 News Release Date:
October 16, 2015
Origami artist Linda Stephen will unveil the result of her artist residency at Homestead National Monument of America on Sunday, November 1, 2015 with an opening reception and artist talk from 2 to 4 p.m.at the Education Center. She will introduce her Homestead series of origami collages including collaborative art she created with 200 visitors from 20 states. It shows the tallgrass prairie wildflowers and historic landscapes all made from folded paper.
Stephen is a self-taught paper artist who grew up in Michigan, studied at the Japan Center for Michigan Universities, and was once honored as one of the top 10 graduates in the state by Michigan Woman magazine.
Her origami landscapes are part of more than 100 collections across the U.S. and Japan including the Mayor's Collection for the City of Omihachiman, Japan to the JW Marriott Hotel's "Sister City" Collection in Grand Rapids, Mich. Recent projects include TV commercials for Tobacco Free Nebraska (origami dollar bills), and a solo exhibit at the Nebraska Arts Council's Fred Simon Gallery.
Linda Stephen has more than 25 years of experience in origami, the Japanese art of paper folding. Fluent in Japanese and passionate about Japanese paper, Linda lived in castle towns in rural Japan for seven years studying Japanese art and language and working as a teacher and translator. After 9/11, while living in New York, Linda started making custom origamiand kirigami art. In 2004, she began making larger commissioned landscape art first for private collectors and then for hotels, public buildings, and corporations.
"We are excited Linda is coming back to share and explain the work she did while at Homestead. She is a talented artist and we are anxious to have her work on display after being at the Nebraska Governor's Mansion," said Superintendent Mark Engler.
Remember, Homestead National Monument of America has an exciting schedule of events planned for 2015. Keep up with the latest information by following us on Twitter (HomesteadNM), and Facebook (HomesteadNM), and Instagram (HomesteadNPS).
Homestead National Monument of America is a unit of the National Park Service located four miles west of Beatrice, Nebraska and 45 miles south of Lincoln. Hours of operation are8:30 a.m. to 5 p.m.Monday–Friday, and9 a.m. to 5 p.m.on weekends. Admission is free of charge. For additional information, please call 402-223-3514 or visit https://www.nps.gov/home/.
Last updated: October 16, 2015