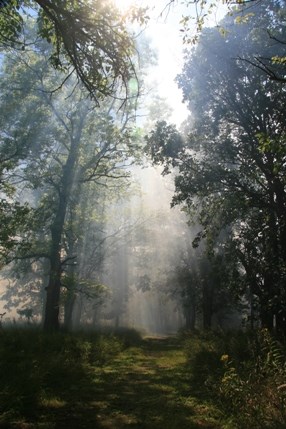 Come Out of the Light…
At Homestead step into a still, dappled woodland world from the inescapable sunlight and relentless wind of the prairie. Feel the same smoothing relief as the homesteaders that settled in this area.
Their relief was not only physical but mental as well. This forest meant security. It gave homesteaders warmth, shelter and animals to hunt.
But this ribbon of lowland bur oak forest along Cub Creek and on the edge of the Great Plains was rare even then.
Help for a Forest on the Edge…
Just in this century, scientists of the National Park Service's Heartland Inventory and Monitoring Program crawled all over this forest finding 116 types of plants and an overstory of 60 foot tall oaks with large spreading crowns.
They also discovered a natural community critically imperiled not just in Nebraska but in the United States.