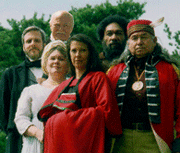 WHO WERE THE HOMESTEADERS?

Nearly 4 million homesteaders settled our country over 123 years, across 30 states. All of these people have personal stories. Homestead National Monument of America is collecting the stories of individuals who are part of this story and have left a legacy to our country. You might have access to these stories; 93 million people have an ancestor or relative who homesteaded. Are you one of them?

Homestead National Monument also features the homesteading legacies of notable homesteaders and homesteader decendents. Read their brief biographies here and see their banners at the Education Center.