Homestead Heritage Center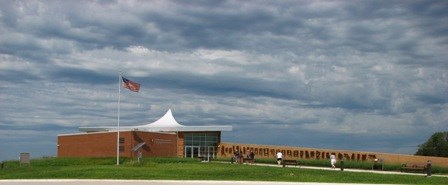 This multipurpose facility brings the epic homestead story to life for visitors of all ages and demonstrates the true scope and importance of the Homestead Act of 1862.
State-of-the-art exhibits present homesteading in an interactive setting. Such topics as the Act's influence on immigration, agriculture, industrialization, native tribes, the tallgrass prairie ecosystem and Federal land policies are presented in an educational and thought-provoking manner. The Heritage Center has computers available for public use so you may research Homestead records.
A diverse, detailed and complete picture of homesteading and the Homestead Act are presented at the Homestead Heritage Center. The building is designed to represent the Homestead Act of 1862 with its spectacular views and unique roof line resembling a single bottom plow moving through the sod.
Along the sidewalk entrance to the building is the "Living Wall," a physical representation of the percentage of land that was successfully homesteaded in each state. The states, from Florida to Alaska, are lined up in order from east to west as you would see them on a map. Even the parking lot is educational in nature; it is one acre in size.
Last updated: September 13, 2022