Accessibility
The National Park Service is committed to ensuring that people with disabilities have equal opportunity to benefit from our facilities, programs, services, and activities whether they are indoors or outdoors. The definition of whether or not a place is "accessible" varies widely from one person to another. To better navigate individual differences, many people with disabilities, their families, and friends, find planning ahead to visit a national park to be critically important. Our hope is to help provide useful information to help guide your experience within our park.
This page includes information on accessible features throughout the park, as well as descirptions and conditions for all park experiences to help you plan your visit. If you have questions about conditions not addressed here, we want to hear from you. Park Rangers are available daily by phone or email. Please contact us with your questions and suggestions.
National Park Access Pass
The Access Pass, part of the America the Beautiful – National Parks and Federal Recreational Lands Pass Series, is available free for US citizens or permanent residents with permanent disabilities. Applicants must provide documentation of permanent disability and residency or citizenship. The pass may be obtained in person at the park's visitor center or through the mail using an application form. Visit the National Park Access Pass webpage for more information on benefits and how to obtain a pass online.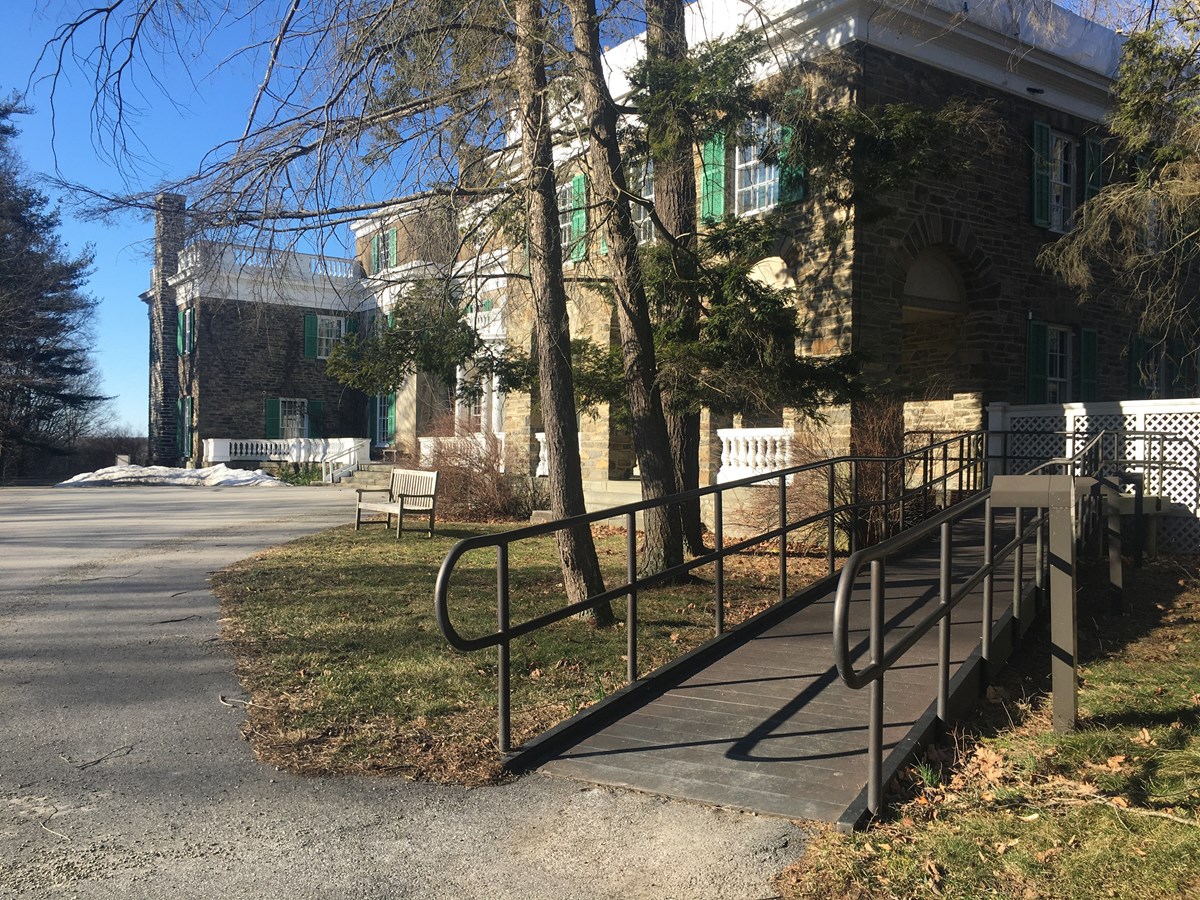 General Information
The Home of Franklin D. Roosevelt National Historic Site is located in the town of Hyde Park, New York, a semi-rural area approximately 5 miles north of Poughkeepsie along Route 9. Despite the park's total 800 acres, the historic core is contained within a compact area accessed by mostly flat, level paved pathways connecting the parking lot, visitor center, FDR's home, burial site, gardens, and the library and museum. The park map will orient you to the general location of park features, connecting pathways, and trails.
The park brochure is available in a variety of formats including braille, audio description, and text-only.
Parking
Parking is free.
Designated accessible parking spaces are available at the front of the visitor center parking lot.
Access
The Henry A. Wallace Visitor & Education Center is fully accessible.
Historic Core

The buildings and gardens located in the historic core are accessed by a network of pathways that are mostly flat, level, and paved.
The first floor of the FDR home is always accessible. The second floor is accessed by a mechancial chair lift. On occasion, the chair lift may be out of service awaiting repair. In these cases, the first floor remains accessible. You may call ahead to confirm the status.
Paths located within the Formal Garden and Burial Site are are composed of crushed stone and are relatively flat and level.
Paved paths provide access through the interior of the Home Garden.
Please be aware there may be areas in the historic core with uneven terrain.

Seasonal trams are available to accompany tours enroute to and from the visitor center and the FDR home (May-October). Our Shuttles are equipped with a wheelchair lift and can accommodate one wheelchair.
Motorized electric scooters used as mobility devices are welcome on the property, but are not permitted inside the FDR home. Please contact us about the use of other mobility devices at the park.
Wheelchair Checkout
Standard, non-motorized wheelchairs are available free of charge at the Henry A. Wallace Visitor Center, the FDR home, and the Presidential LIbrary Museum Exhibits on a first come, first-served basis.
Our season tram (May to October) is equipped with a wheelchair lift and can accommodate one wheelchairs.
American Sign Language (ASL)
Visitors interested in a tour with an American Sign Language (ASL) interpreter can do so by contacting the park accessibility coordinator.
ASL interpreters are third party contractors and services are based on their availability. We ask for two-week minimum to make arrangements.
ASL interpreters are available for our ranger guded house tours.
Captioning
Captioning services are available for the orientation film and all films in the presidential library museum exhibits.
Assistive Listening
Devices for amplification are available upon request for guided tours and park ranger programs.
The introductory film, A Rendezvous with History, offers captioning and audio descriptions for those with hearing or visual impairments. Devices are available at the visitor center desk.
Restrooms
Accessible Restrooms are located at the Henry A. Wallace Visitor Center, the Presidential Library and Museum, and at the Roosevelt Coach House and Stables.
Family Restrooms are located at the Henry A. Wallace Visitor Center.
Restrooms are not available in the FDR home.
Service Animals
Service animals are allowed in national parks. See the Americans with Disability Act definition of a service animal. For information on animals that do not qualify as service animals, please see our information on pets in the park.
With one exception, anywhere that you wish to go in the park, your service animal may go too. Due to sanitation concerns regarding pet waste in close proximity to food destined for human consumption, service animals are not permitted within the fenced Home Garden.
Potable water is available at the Henry A. Wallace Visitor Center, the Presidential Library and Museum, and the Roosevelt Coach House and Stables.
Park trails are generally surfaced with compacted gravel or a mix of native soils and rocks.
Dispose of pet waste in trash cans located throughout the park. Plastic bags are not provided, so please remember to bring your own.
Service animals must be on a leash at all times.
Last updated: March 16, 2021