Collections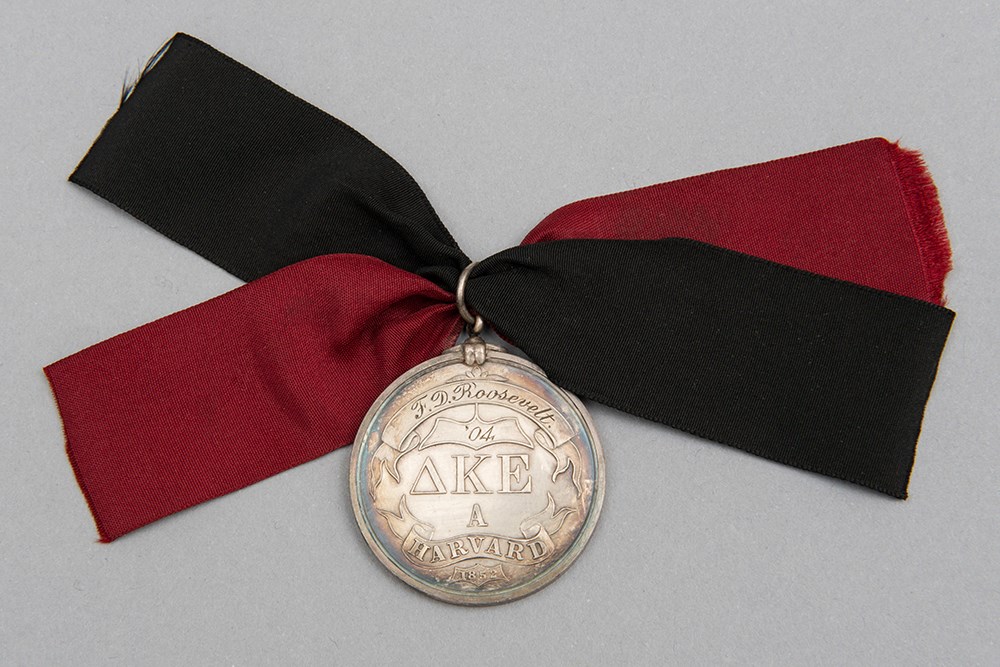 The museum collections for Home of Franklin D. Roosevelt National Historic Site number approximately 9,000 artifacts and include furniture, tablewares, artworks, books, carriages, sleighs, and many personal items associated with the Roosevelt family. About 40 percent of the collections are on permanent exhibit in President Roosevelt's home. Objects in storage are available for research by appointment.
Selections from the Collections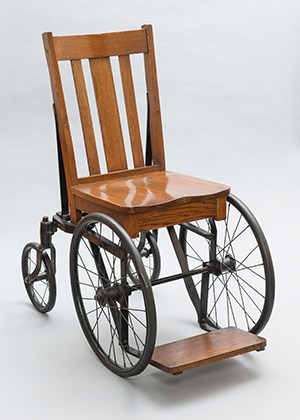 FDR's Wheelchair. The wooden seat (a modified oak task chair) is mounted on a black metal frame with two large wheels at the front, two small pivoting wheels at the back. The wheelchair is one of several built to FDR's specifications. Commercial wheelchairs of the era were typically large and cumbersom, and would have been difficult to maneuver around FDR's house. This is one of four know wheelchairs used by FDR—two are in the park's collection, one is at the FDR Presidential Library, and one at Warm Springs, Georgia.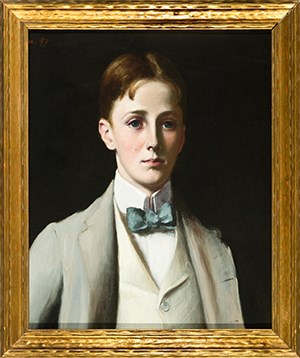 Chalres Stuart Forbes (1856–1926),
Franklin D. Roosevelt as a Young Boy
, 1897. The portrait depicts Franklin at age fourteen at the time he left home to attend prep school at Groton. Unlike home, life at Groton was completely regulated. Under the headmaster, Endicott Peadbody, Franklin was taught the value of public service and the responsiblity of helping those less fortunate. At his graduation, Franklin received the award for the best Latin essay. The painter Charles Stuart Forbes was born in Geneva, Switzerland to American parents. In 1887, he studied painting with Carolus-Duran in Paris, France. There he met and became a close friend of the American expatriate artist John Singer Sargent (1856-1925). During these years he exhibited at the Paris Salon (1887-1889); in 1891 he exhibited in the Salon of the Société Nationale des Beaux Arts in Paris. Sara Roosevelt's diary indicates that this portrait was begun at Christmas of 1896 and finished by April 1897.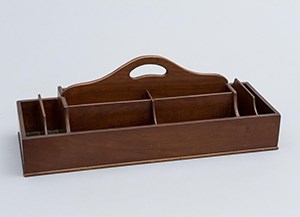 Val-Kill Industries.
Letter Box,
ca. 1930. This letter box, from FDR's desk in the library of his home, was made at the Val-Kill Shop located in Hyde Park, New York. Val-Kill Industries was established by Eleanor Roosevelt and her friends as an experiment to support local farming communities. At Val-Kill, craftsmen produced furniture, pewter, and homespun wool. Val-Kill Industries was in operation from 1927-1936 when it eventually closed under the financial pressures broght on by the Great Depression. Val-Kill Industries would serve as a model for several federal craft programs and subsitence programs under FDR's New Deal.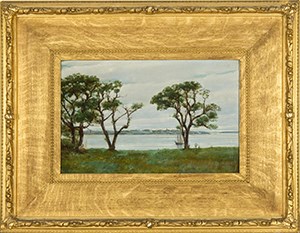 Albert Henry Munsell (1858-1918), Campobello, 1890. The American painter Albert Munsell was born in Boston, MA where he attended and later taught at the Massachusetts Normal Art School (now known as the Massachusetts College of Art and Design). As a painter, he was noted for his seascapes and portraits. But he is best remembered for inventing the Munsell color system widely used today in manufacturing and communicating color standards. The Roosevelts maintained a house at Campobello, a summer colony popular among wealthy American families.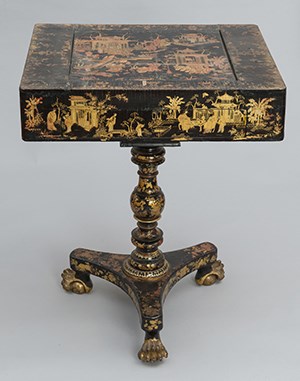 A polychrome and gilt-japanned Chinese tripod base game stand, 19th century. When lacquered objects made in East Asia first reached Europe in about the early 16th century, they were highly prized for their flawless finish and light-reflecting qualities. To cater for the growing taste for lacquer, and to compete with increasing numbers of imported lacquer goods, European craftsmen attempted to imitate Asian lacquer. In Europe, techniques imitating Asian lacquer were known by a variety of names, including 'Vernis Martin' in France and 'japanned' in Great Britain. European craftsmen were sent to China to ensure that furniture forms, such as this gaming table, were made according to Western taste.
FDR's grandfather, Warren Delano Jr. made a large fortune trading opium in Canton, China. Delano achieved financial success and became the head partner of the biggest American firm dealing with the China trade. As a young girl, FDR's mother Sara, lived for a time with her family in China. This gaming table may have been acquired by her family during that time, and was later brought to Hyde Park from Sara's New York City townhouse.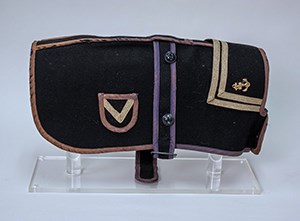 Fala's Navy Coat. Among presidential pets, Fala (1940-1952), FDR's Scottish Terrier, is perhaps the most famous. Photographs of Fala wearing this coat and details on its history are not presently known. But Fala was familiar with the U.S. Navy. Fala and his White House antics were frequently subjects of the press and often referenced by Roosevelt himself. In a speech delivered to the Teamsters Union on 23 September 1944, FDR addressed a malicious rumor that he had ordered a U.S. Navy destroyer to the Aleutian Islands to retrieve the misplaced Fala. Fala did, however, accompany President Roosevelt at sea on occasion. Fala was present with FDR and British Prime Minister Winston Churchill somewhere in the Atlantic aboard the U.S. Cruiser
Augusta
on 9 August 1941. Both men traveled in secret (FDR was on a ten-day "fishing trip"). The result of this meeting was the Atlantic Charter, a statement issued on 14 August 1941 that set out American and British goals for the world after the end of World War II. The adherents to the Atlantic Charter signed the Declaration by United Nations in 1942, which became the basis for the modern United Nations.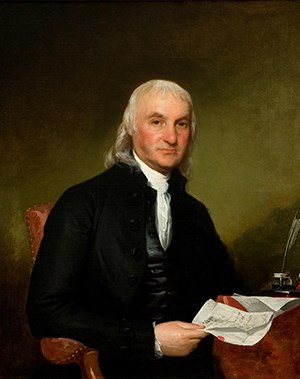 Gilbert Stuart (1755-1828), Portrait of Isaac Roosevelt (1726-1794). Isaac Roosevelt was FDR's great-great-great grandfather. A known patriot, Roosevelt was elected to the New York Provincial Congress in 1775 and was one of the Committee of One Hundred that took control of the state government in May of that year. Though he was initially a moderate hoping to prevent conflict, he withdrew from New York when the British occupied the city, and spent the period of occupation in Dutchess County, serving with the Sixth Regiment of the Dutchess County Militia. Following the American Revolution, Roosevelt served as one of ten representatives from New York City that deliberated on the adoption of the United States Constitution. He was a member of the New York State Senate from 1777 to 1786, and from 1788 to 1792. Roosevelt's fortune from sugar refining, and his political accomplishments, became a foundation of the families wealth, prominence and influence.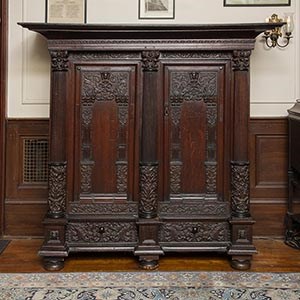 Large cupboards such as this, known as a kast (or kas), represented an important form of furniture in the Netherlands during the early seventeenth century. Prior to built-in closets or chest of drawers, kasten provided storage for costly textiles and other valuable household goods in homes of the wealthy burgher class. A kast might be bought on the occasion of a wedding and was likely used to store linen and clothing—costly articles that often formed part of a bride's trousseau.
Last updated: December 16, 2020