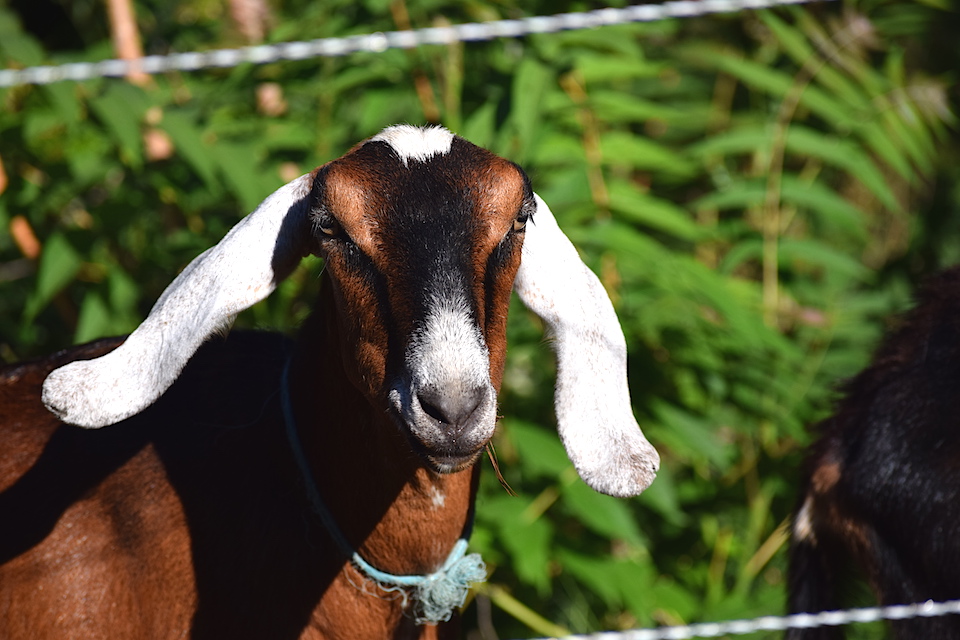 If you've stopped by the Vanderbilt Mansion National Historic Site recently, you may have noticed our new furry friends. Every other summer since 2009, our park has invested in a new, more environmentally conscious landscaping method for keeping up with the slope behind the mansion. Instead of using tractors to weave around the tree and shrub growth on the hill, which can be very dangerous, we now use goats!
Dave Hayes, Chief of Resource Management at the park, had to find another way for clearing the slope because it had become too tricky to manage for the maintenance staff. "It's important to maintain the view of the river from the Vanderbilt site. But our equipment just wasn't enough. The labor was intense and exhausting and the equipment we used was too dangerous on the uneven and steep hill." 
Then Hayes found GreenGoats Inc., a company devoted to safe removal of unwanted vegetation by employing goats. The goats are able to do what humans can't, by eating away at the growth, they are feeding their bellies while helping the park to maintain the historic landscape. This year, we have four goats from GreenGoats Inc. and by the end of the summer they will have cleared six acres. 
"The goats don't use any fuel, so they are much more environmentally friendly," said Hayes. "They also help us save on labor and equipment costs." 
Historically, goats have been used for hundreds of years to maintain lawns. They are known as the "original weedwacker" and eat almost anything, from tree saplings, to shrubbery, to vines and weeds, and even poison ivy! 
Although the goats are friendly, it's important to remember that they are here to work. So, there is no petting or feeding allowed. However, you can watch them work from the top of the slope. 
"Everyone loves seeing the goats," said Hayes. "I think they are the most popular rangers here." 
The goats will stay at the park until they are finished, around early to mid-September. So stop by and say hello to the little guys. 
Check back in next week for a post about salamanders and other slimy creatures at Farm Lane.